Microgel jab might one day eliminate the need for spinal surgery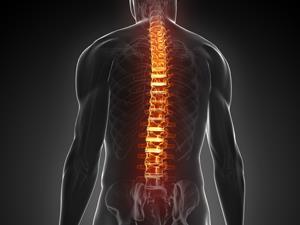 UK researchers have
developed an injectable microgel
that can completely restore the mechanical function of damaged spinal discs – at least in an animal model.
With over a million cases reported every year, back pain is a common cause of sick leave, and is thought to affect 80% of people at some point in their lifetime. Injuries affecting the flexible discs which sit between vertebrae are often to blame, and current treatments involve either long term physiotherapy or risky spinal surgery.
Now, a gel implant designed by chemists at the University of Manchester shows promise as a non-invasive alternative. The material, based on poly(methyl methacrylate) and other microparticles, is prepared in a liquid form, which can be injected directly into discs to replace degraded cartilage. The particles swell at body temperature and pH, forming a viscous fluid in just five minutes. When subjected to load cycles at a pressure of 1MPa, microgel-filled bovine discs showed similar stress resistance to undamaged ones.
'The idea of injecting a gel into discs isn't new,' explains Brian Saunders, one of the authors of the study, 'but this paper is the first to show an injected gel can provide statistically meaningful support under the sort of loads that exist in the human back.'
The key to this exceptional load-bearing ability is the formation of multiple covalent crosslinks between the particles as they expand. Swelling brings the vinyl groups on neighbouring particles close enough together to react and crosslink in the presence of free radicals – added just before the injection. The result: a highly stable, permanent gel.
Stiffness, and thus load-bearing ability, can also be controlled by altering the particle concentration. According to Saunders, this tuneability is essential. 'Everyone's got different loads on their intervertebral discs, so you have to be able to tune the composition for a particular need,' he says. 'We can do this very easily with our system.'
Andrew Lyon, an expert in microgel design from the Georgia Institute of Technology, US, praises the study as a 'promising' development. But he also highlighted the need for further work in vivo. 'With any of these types of treatments you need to see how the body responds over a long period of time,' he says, 'and make sure that any short-term mechanical benefits are accompanied by long-term healing.'
Saunders agrees, saying that the next step is to put the gel through long-term stability and biocompatibility testing.
References
A Milani et al, Biomacromolecules, 2012, DOI: 10.1021/bm3007727