Petition pressing President Obama to oust FDA's deputy commissioner for foods goes viral, garnering over 380,000 signatures
An online movement has erupted urging President Obama to cease ties between the US Food and Drug Administration (FDA) and agricultural biotech company Monsanto. The petition specifically mentions Michael Taylor as a former vice president and lobbyist with the firm, and suggests that he should be removed from his position as the FDA's deputy commissioner for foods.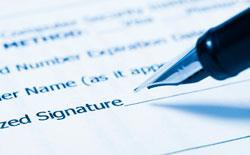 Circulated through signon.org, the petition has garnered more than 380,000 signatures. The petition states: 'Taylor was in charge of policy for Monsanto's now-discredited GM (genetically modified) bovine growth hormone (rBGH), which is opposed by many medical and hospital organisations. It was Michael Taylor who pursued a policy that milk from rBGH-treated cows should not be labelled with disclosures.'
The petition was launched by Frederick Ravid, principal of Chartered Financial Services in Atlanta, Georgia. It was posted back in September, and suddenly went viral in early February, with the number of signatories exploding in a matter of days.
Ravid notes that Taylor has occupied his senior FDA post for two years, but that he only recently became aware of signon.org, which allowed him to raise the issue publicly.
Taylor has weaved in and out of the public and private sectors. He served as an attorney for the US Department of Agriculture in the 1970s, and then as a private lawyer at the DC law firm King & Spalding in the 1980s, representing Monsanto and the International Food Biotechnology Council. He later returned as a deputy commissioner for policy at the FDA, before going back to Monsanto in the late 1990s for several years as its vice president for public policy. Ultimately, Taylor rejoined the FDA in July 2009 as senior advisor to the commissioner before being elevated to his current post in January 2010.
'Taylor is the poster boy for the revolving door between the FDA and biotech companies; there are dozens of people with positions at the FDA and other agencies who are going back and forth between government and industry,' Ravid tells Chemistry World. That's 'an enormous concern,' he says.
The main goal of the petition is not ousting Taylor, but rather eliminating the control that biotech companies have over the US regulatory process, Ravid explains. He says the issue resonates with the American public.
Meanwhile, the FDA is coming to Taylor's defence, and says Taylor 'continues to refrain from involvement in issues related to animal and plant biotechnology that would raise any appearance of a conflict of interest'. The agency tells Chemistry World that its employees are generally prohibited from having any financial ties with organisations that they may oversee.
Rebecca Trager