Scientists have been able to rebuild eroded tooth enamel with a hydrogel
A calcium phosphate based hydrogel has been found to regenerate tooth enamel, which could help to fight the effects of acid erosion and alleviate sensitive teeth, say scientists in the UK.
Stephen Mann and colleagues from Bristol University used electrospinning to bind together amorphous calcium phosphate and polymer nano- and micro-fibres to form hydrogel mats. When exposed to fluoride, the mats were transformed into crystalline enamel-like particles and could be used directly on a damaged tooth surface. By chance, the team also discovered that they could plug channels in the soft layer underneath the enamel, called dentine, using the mats. Exposed dentine causes sensitive teeth.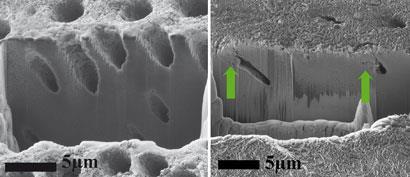 Acidity in the mouth is the leading cause of enamel erosion and sensitive teeth, or dentine hypersensitivity. These problems are compounded by the fact that enamel, unlike bone and other biomineralised tissues, is unable to regenerate. Scientists are looking into developing new biomaterials to prevent pain, infections, dental cavities and tooth loss caused by enamel erosion.
'The work is at a very early stage, but the mats can be routinely fabricated and could be safely stored if they are kept dry,' says Mann who is collaborating with GlaxoSmithKline to investigate the mats' future development. There is a lot to do, however, before this basic research can be transformed into products or clinical practices, he says. 'We have no idea of the efficiency of the enamel remineralisation or dentine tubule blockage, or the resilience of the overgrown enamel layers and plugged dentine channels to further rounds of acid attack,' he adds.
'Providing a calcium and phosphate source at the surface of tooth decay and exposed dentine is a relatively recent approach to facilitating remineralisation,' says Colin Robinson, an expert in biomineralisation at the Leeds Dental Institute in the UK. A current treatment is to release casein peptides, which sequester calcium and phosphate, in the vicinity of the affected tooth or within the enamel cavities. The mat, however, can be positioned at specific locations on teeth.
'The mats' ability to generate apatite crystals as an immediate layer not only could provide a protective layer to a compromised tooth surface but could also permit regrowth of enamel surfaces that have been lost owing to erosion and/or wear,' says Robinson. 'These relatively intractable problems are of increasing importance. Loss of tooth surface due to erosion related to acidic beverages is important in the younger population while loss due to wear is an inevitable result of retaining teeth in the ageing population,' he concludes.
Emma Shiells
Link to journal article
Electrospun mats of PVP/ACP nanofibres for remineralization of enamel tooth surfacesJane Fletcher, Dominic Walsh, Christabel Emma Fowler and Stephen Mann,?CrystEngComm, 2011, 13, 3692DOI:10.1039/c0ce00806k