Decontamination of polonium traces from Litvinenko case presented a mammoth task
Victoria Gill/London, UK

Government officials have described the enormous cleaning effort that followed the death in November 2006 of former KGB agent Alexander Litvinenko, poisoned with radioactive polonium-210. Fifty locations around London were deemed to be contaminated by the now infamous isotope. Its wide dispersal presented a mammoth challenge to the government agencies involved, including the Government Decontamination Service (GDS) and Health Protection Agency (HPA).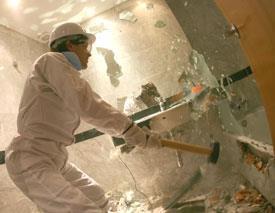 At a meeting at the RSC on 13 July in London, members of those agencies revealed the incredible level of organisation underpinning the task, which ranged from a somewhat domestic wipe-down to the destruction of hotel bathrooms with hammers. The event - dubbed 'Beyond Mrs Mop: chemical, biological and radiological clean-up' - was a chance to discuss and share scientists' experiences of decontamination situations.
'Many polonium-contaminated solid surfaces could be wiped clean with detergent,' said Dudley Hewlett from the GDS, set up in 2005 as an executive agency of the UK Department of environment, food and rural affairs (Defra). Hewlett's agency had the task of deploying contractors to clean up venues throughout the city.
"Rather than try to dispose of whole bathtubs, the enamel was smashed off with hammers" - Dudley Hewlett, Government Decontamination Service
On solid, non-porous surfaces like varnished wooden furniture and painted walls, a strong detergent called Decon-90 - containing about three per cent potassium hydroxide - was used. And since the alpha particles emitted by polonium-210 are so weakly penetrating, it was possible to seal and immobilise much of the contamination with a layer of paint or varnish, according to Duncan McClure from the radiation protection division of the HPA. 'A lot of activity is still out there and has essentially been completely sealed away from public access,' he said.
Trashing hotel rooms
However, there were other surfaces that posed greater problems. Polonium had managed to penetrate the porous surfaces of enamel-coated bathtubs or wash basins in certain London hotel rooms, so the whole surface had to be disposed of with the help of straightforward brute force.
'There was a large volume of waste, including furniture and textiles, so rather than try to dispose of whole bathtubs, the enamel was smashed off with hammers,' explained Hewlett. 'This could then be bagged and stored for disposal.' At the height of the operation, the HPA had deployed about 70 people to oversee all the contaminated sites, with private contractors also working to eradicate the polonium residues. The most contaminated hotel was the Millenium in London's exclusive Mayfair district, which took 19 days in March to clean up. This was where Litvinenko met with Andrei Lugovoi, a former KGB officer, on 1 November 2006, just hours before he fell ill.

The UK's Crown Prosecution Service has subsequently said that Lugovoi should be charged with Litvinenko's murder, sparking an ongoing diplomatic crisis between the UK and Russia.

Counting costs

The overall costs of the operation are still not known, added Hewlett. Most of the expenses should be covered by private insurance companies and local authorities. 'But closing a hotel for a prolonged duration is much more costly in lost income than the direct cost of the clean-up,' he added, so it's tough to calculate the true costs of the episode.

"Since polonium-210 is so rare and has to be ingested to cause harm, it isn't on our list of terrorist threats" - Dudley Hewlett, GDS
'One advantage of polonium is that it has a very short half-life of just 138 days,' added McClure. This means that many pieces of contaminated furniture remain in storage bins to this day, decaying to the level whereby they are safer to handle and dispose of.
The short half-life and weakly-penetrating radioactivity means that polonium-210 can be buried with little risk. Reports of Alexander Litvinenko being buried in a lead-lined coffin were denied and even ridiculed by sources within the HPA. And although Litvinenko had ingested a large amount of this highly damaging substance, many of his most contaminated organs were removed during autopsy. 'These then became a combination of clinical and contaminated waste, which posed a challenge for their disposal,' said Hewlett. The case was clearly unprecedented, added McClure. 'We have an emergency plan, but since polonium-210 is so rare and has to be ingested to cause harm, it isn't on our list of terrorist threats,' he said. 'It was unexpected, but proved that we have an effective strategy in place.'