A firm converting carbon dioxide into plastic is one of several receiving US funding to push research into creating useful products from the waste gas
A US company developing a novel way to convert carbon dioxide into plastics is one of six firms receiving a total of $106 million (?68 million) in government funding as the US pushes research converting captured waste carbon dioxide into useful products.
Massachusetts-based Novomer has received $18.4 million from the US Department of Energy (DOE) to develop a process for converting carbon dioxide into polycarbonate polymers that could be used to make plastic bottles.
Since its formation 4 years ago, Novomer has been developing a way of reacting traditional epoxide feedstocks with carbon dioxide from industrial waste streams to form plastics that contain between 40 and 50 per cent carbon dioxide by weight. The company uses a catalyst technology developed by Geoff Coates at Cornell University in New York, US, and employs a cobalt catalyst which chief executive Jim Mahoney says is fairly straightforward to synthesise despite being a relatively complex organometallic compound.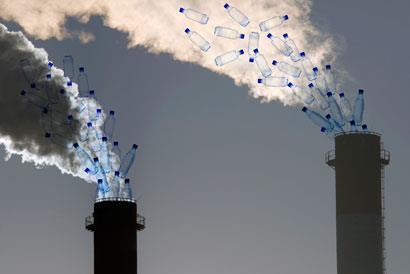 Using the catalyst technology, Novomer can form both high molecular weight (MW) polymers to make thermoplastic polymers that can be used to make plastics, and low MW polymers that can be used to make resins for use as coatings and adhesives. The technology can also be used to convert carbon monoxide into a range of chemicals such as acrylic acid and 1,3 propanediol.
Part of the system's flexibility comes down to the catalyst's ability to work in the presence of a chain transfer agent. 'Putting a chain transfer agent, such as a diol or triol, into the reaction allows us to grow a polymer off each of the agent's OH groups, and by controlling the amount of chain transfer agent added into the reaction we can control the molecular weight of the polymers,' says Mahoney.
With the help of the DOE funding, Novomer will work with chemical firm Albemarle and the chemicals arm of photographic materials company Eastman Kodak to develop and scale-up its process to make the high MW thermoplastic polymers used to make plastic bottles, films, laminates, and coatings for food packaging.
Novomer's most advanced project is the development of low MW polymers for coating and ink resins using carbon dioxide as a raw material - a project Novomer is undertaking in collaboration with Dutch life sciences and materials company DSM. Mahoney predicts the first products from this collaboration will hit the market within the next 2 years.
'We are very positive about this technology because it is so sustainable, but from a cost and performance point of view the technology is also very attractive,' Jan Besamusca, innovation director at DSM's NeoResins+ division, told Chemistry World.
The two companies have been working together for over 3 years to develop the technology and in January announced a 'major breakthrough' which has vastly increased the scale and the purity of the production process. According to Besamusca, the advance makes it likely that DSM's customers will start to receive samples for testing in the near future.
And he's convinced they'll be pleased with what they receive: 'This generation of polymers is already known from fossil fuel technologies and these polymers have excellent performance characteristics.' A further bonus is the fact that the technology could also 'significantly reduce' the carbon footprint of plastics manufacturers, says Besamusca.
Mahoney agrees, and welcomes the DOE's investment in these new technologies, saying that rather investing in carbon capture and storage programmes, other governments and industry would be wise to consider making use of carbon dioxide rather than just hiding it away. 'It would be a much better use of carbon dioxide to turn it into something a company can develop a business around, rather than relying on government subsidies to bury it.'
However he does caution that 'the plastics market is limited in size, so isn't going to solve all the world's carbon dioxide problems - but it is definitely a nice step forward.'
Matt Wilkinson