Open letters from heads of research organisations and 44 Nobel laureates make the case for the economic importance of science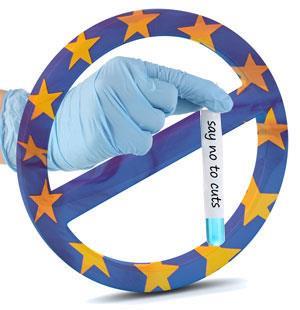 As politicians continue to debate sharp reductions to the next seven year EU budget, scientists are joining together and loudly urging political leaders to keep their budgetary knives away from research funding.
Specifically, scientists are fighting to keep intact the €80 billion (£69 billion) Horizon 2020 research package proposed late last year by the European commission. Horizon 2020, which runs from 2014–20, is the successor to the €55 billion Seventh Framework Programme, which ends in 2013.
The heads of eight leading European research organisations issued an open letter last week as the European council met in Brussels to try to hammer out an agreement on cuts to the commission's proposed €1 trillion budget for 2014–20. In their letter, the research leaders urged that 'the budget for science remains strong', adding: 'Research and innovation – the creation and exploitation of new scientific knowledge – must be at the heart of Europe's strategy to build a strong and sustainable economy that benefits all citizens.'
Some 44 Nobel laureates also penned an open letter to political leaders opposing research funding cuts, saying: 'It is essential that we support, and even more importantly, inspire in a pan-European way the extraordinary wealth of research and innovation potential that exists all over Europe.'
The meeting of the council, which includes the heads of government of the 27 EU member nations, ended on 23 November with no agreement on budget cuts. The debate is to resume next year, probably in February.
Wolfgang Eppenschwandtner, executive director of the science promotion organisation Initiative for Science in Europe (ISE) in Heidelberg, Germany, tells Chemistry World that the 'latest proposal which was put on the table' at the council meeting would see research cut by 12% compared with only 6% for the total budget. Describing that as a 'disproportionate' reduction for research, he warns that some member nations, including the UK and the Netherlands, want even deeper cuts in the overall budget.
'The debate is still open,' says Eppenschwandtner. 'The EU research budget for the next seven years is at stake. The [€80 billion] proposed by the European commission for Horizon 2020 is generally considered as the minimum needed to stay on track and generate impact in Europe.'
ISE has co-organised an online petition directed at European political leaders in support of research funding. The petition, which went live on 23 October, had nearly 150,000 signatures as of 28 November. Eppenschwandtner admits that he is surprised by the success of the petition. 'It is also remarkable that about 20% of all signatories are non-researchers, even though our campaign did not focus on the general public. People from all kinds of backgrounds have asked us whether they can sign the petition.'