Reactionware made on 3D printer manipulates reactions with gravity
Scientists in the UK have used reactors made on a 3D printer to complete a three stage organic synthesis. The reagents, catalyst and purification step for the synthesis are completely integrated into the chambers of the sealed reactor. When the reactor is rotated, gravity pulls reactants through the different chambers to complete the synthesis.

Initially, Leroy Cronin, who lead the work at the University of Glasgow, had envisaged a 'Rubik's cube for synthesis', where different manipulations of the reactor would produce different products. 'The code, like opening a safe, would be in the rotation,' he explains. 'I thought it was genius. My group told me I was stupid.' The team convinced Cronin to start with an easier L-shaped three step reactor, but he still plans to create the Rubik's cube in the future.
A three-step organic reaction sequence was performed in the L-shaped reactor. The sequence began with a Diels–Alder cyclisation followed by formation of an imine and then hydrogenation of the imine to the corresponding secondary amine.
The team's next challenge is to use 3D printing to trap reactive intermediates within the device. Research into this is already underway. The scientists suggest that sensors could also be included to monitor the reactions. 'Closed loop synthesis–sensor–synthesis would be a revolution,' says Cronin.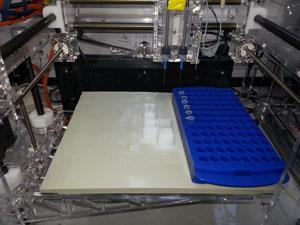 Filipe Vilela from Max Planck Institute of Colloids and Interfaces, Potsdam, Germany, an organic synthsis expert, says that apart from having an incorporated catalyst and purification step, which leads to a stand-alone reactor for a multi-step synthesis and purification, this technology stands out for its inexpensive nature and will soon rival other multi-step reactors like micro and millifluidic devices.
'The 3D platform allows for the reproduction of a reactive system in any laboratory that has a 3D printer,' says Vilela. 'Given the open-source nature of this technology, a scientist can download the 3D printing files made available by the authors and load the 3D printer with the materials originally used to reproduce the system.' He envisages that in the future, with this technology, experimental protocols will have the simple sentence "3D printing verified" to validate a particular reaction and/or system.