UK biotech companies are worryingly low on funds
With the increasing importance that big pharma is placing on biological medicines, the rate at which biopharmaceutical and life science companies are running out of money is truly astonishing.
While the pharmaceutical and biopharmaceutical sectors in general are outperforming broader stock market trends, many early stage companies are desperately trying to conserve cash and raise money to keep going.
Numerous companies have already been forced to close their doors permanently or at least shutter operations until investors, scared of being burnt by investing in high risk sectors, decide that they are worth a gamble. One of the key problems is that the majority of biotechnology companies have to rely on long-term investments while they develop their products to the stage where they can generate income.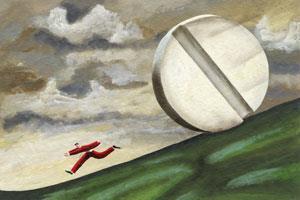 The UK's BioIndustry Association chairman Clive Dix has stressed how serious the problem has become: 'Almost one third of companies in our sector have less than six months' cash remaining. This urgency cannot be underestimated; not only would the UK lose a world-class industry but also the development of drugs would slow, which would delay the delivery of much needed treatments for patients.'
According to Dix, the shortage of financing has caused companies to abandon or defer new research and development programmes, mothball others and cut staff.
The problem in the UK became so severe that in December 2008, a consortium of leading biotech players contacted the prime minister to ask the government to help secure the future of the sector. In January 2009, the government formed the Office for Life Sciences (OLS) which was given until July to make a real difference to the operating environment for life sciences companies.
'Life science is one of the key strategic sectors of the future. It will have a vital contribution to make as we come through this recession - therefore it is essential that we ensure the industry is in a position to flourish,' said Lord Drayson, UK minister for science and innovation and leader of the OLS. 'We must focus on rebalancing the economy towards those sectors where we have a competitive advantage and opportunity to be a global leader.'
Silver linings?
While for some any financial assistance provided by the government may be too late, for others things look more positive. In April the Oxfordshire Bioscience Network held its annual BioTrinity biotechnology and investment conference, and while there was some initial pessimism, investment companies and pharmaceutical firms in attendance were soon competing to invest in promising companies.
Gilles Nobecourt, a partner at private equity firm Edmond de Rothschild Investment Partners (EDRIP), was unsurprised, saying that 'it's always time to invest in biotech companies - as long as the valuation is in line with what the company is really worth. The biotech sector should be seen as a very attractive investment, as it's a very rewarding asset class if you stay long enough and have a good understanding of what you are investing in. In addition it is as decorrelated as possible from the overall market conditions.'
Nobecourt has recently joined the board of Swiss biotech firm GlycoVaxyn after EDRIP led a series B financing round to help the firm take its lead vaccine candidate for intestinal Shigellosis infections into clinical development.
'If you look at the amount of money invested in the sector, except for the last few months the amount of money invested is increasing overall, but it is being concentrated on fewer companies - those with good teams and good projects are those that are getting properly financed - and there is always competition to finance these companies,' says Nobecourt.
Iain Wilcock, UK and Ireland investment advisor for Seventure Partners' life science venture capital team, told Chemistry World that it is 'a tough market at the moment, but one has to take some of the more apocalyptic statements with a pinch of salt. But in the current market I expect that some good ideas and some quite sensible companies may not get funded on terms they feel that are fair.
'At Seventure we have looked at over 80 companies and we are currently in advanced due diligence with three of them. Our objective is to make two investments a year in the UK and Ireland within the life sciences area.'
While some might say that the current situation is merely capitalistic Darwinism at its most lethal, are the companies that are best suited to survive a recession those that will flourish when the upturn comes? And perhaps more importantly, how many potentially life-saving drugs will have been left unfunded?
Matt Wilkinson