Rail safety crisis that would have put the nation's chemical distribution at risk has been averted
When US rail freight companies threatened to shut down chemical shipments because they would be unable to implement new rail safety technology on time, the chemical industry sounded the alarm. Without an extension beyond the 31 December deadline, chemical transport by train across the US would likely have ended on much of the nation's rail network in January 2016. But the immediate danger of such a calamity appears over.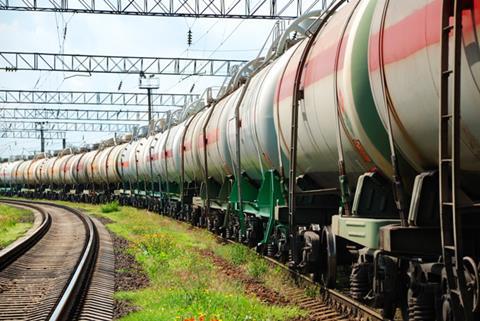 President Obama signed a highway bill on 29 October that provides passenger and freight railroads with three more years to install an automated speed regulating system known as positive train control (PTC), which would prevent collisions.
Had the PTC deadline not been postponed, rail companies would have faced significant liability if they kept operating past the end of this year, including for any accidents occurring with trains transporting toxic inhalation hazard (TIH) materials. TIH chemicals include chlorine, anhydrous ammonia and hydrogen fluoride, which are all used in both consumer and industrial goods and processes.
The PTC extension pushes the required date for implementation to 31 December 2018. The new law also allows for an additional two-year extension if certain benchmarks are met.
'It means we no longer have to worry about a regulator induced shut down of freight rail service,' says Scott Jensen, a spokesperson for the American Chemistry Council (ACC). 'The regulatory issue has been resolved for now.'
Bill Allmond, with the Society of Chemical Manufacturers and Affiliates, notes that speciality chemical companies rely on rail shipments of raw materials to their manufacturing facilities or to their suppliers' facilities. Movement of some chemicals requires rail shipment and so there was no alternative for those products, he says. 'Given the enormity of the crisis that would have ensued all across the economy if rail shipments ceased, Congress made the right decision to extend the deadline by three years,' Allmond tells Chemistry World.
The National Association of Chemical Distributors (NACD) also says the inability to move TIH materials would have been disastrous for its members. While NACD members represent the 'immediate downstream customer', there would have been problems for its members' customer bases, including utilities, pharmaceutical companies, metal processing, industrial refrigeration and water treatment facilities, according to the organisation's legislative affairs director, Laura Chambers.
The Association of American Railroads' president and chief executive, Edward Hamberger, said freight and passenger railroads can now push on with the development, installation and testing of the 'complex' PTC technology. However, most rail firms estimate that it will take about one to five years for them to implement PTC, according to a congressional Government Accountability Office (GAO) report released in September.