Looming shutdown of America's rail network puts chemical transportation at risk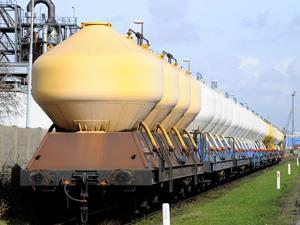 Chemical transport by train across the US may end on much of the nation's rail network in January 2016, due to delays adopting new rail safety technology. The Association of American Railroads, the Federal Railroad Administration (FRA) and others have said that rail firms won't be able to meet the deadline to install safety features to prevent collisions, and now the American Chemistry Council (ACC) is sounding the alarm.
Cal Dooley, president and chief executive of the ACC, said the US is facing an 'unprecedented shutdown' of rail freight services. If Congress fails to act swiftly to extend the deadline for implementing positive train control (PTC), a GPS-based system designed to prevent train collisions and derailments, it will 'send a shock wave' through the nation's economy.
In a statement, Dooley noted that most major rail firms have said they will shut down large portions of their lines unless the deadline is extended. 'A transportation shutdown of this magnitude would have cascading impacts that would threaten the nation's food, energy and water supplies, as well as manufacturing, construction and nearly every other sector of the US economy,' he said.
In 2008, Congress mandated that freight railroad lines carrying passengers and certain hazardous materials implement the new PTC technology, in response to several fatal rail accidents between 2002 and 2008. About 20 out of 29 US rail firms estimate that they won't be able to implement PTC until one to five years after the end-of-year deadline, and three of the others have no estimated completion date, according to analysis by the congressional Government Accountability Office (GAO). Of the remaining six rail firms, one was exempted from installing PTC as speeds are limited on its tracks, while four commuter rail firms and a small freight one did expect to have PTC operational on their tracks by the deadline.
Frozen chemicals
The Union Pacific Railroad Company, has warned that without an extension of the PTC deadline 'neither passenger traffic nor chemicals Americans need and use every day, such as chlorine for drinking water, will move on the Union Pacific system by the end of 2015'.
Railway operators have spent around $6 billion (£3.9 billion) in total on PTC research, development and implementation thus far, but technological problems and design issues have hindered efforts. They note that PTC is not off-the-shelf technology, and after the mandate passed in 2008, railroads had to first design and then test the system. The railroads say they have also been hit with regulatory and supplier delays.
If Congress doesn't extend the PTC deadline, rail firms worry that they'll be left open to being sued. Any accident involving trains carrying commuters or products identified as having toxic inhalation hazards (TIH) after 31 December deadline would expose them to huge liabilities, as PTC wouldn't be fully operational by then.
I think it would lead to significant congestion, and that does also lead to safety impacts
TIH shipper associations have reportedly expressed concerned that it will be impossible to ship and receive these chemicals by rail once the deadline passes.
CSX, a US rail freight firm, said that it transported more than 17,000 carloads of TIH chemicals in 2014. Without the certainty of a PTC extension in the very near future, CSX said it will need to begin preparing by 1 November at the latest to suspend all TIH traffic and have all its TIH cars off the tracks by 31 December.
If rail services to carry certain hazardous chemicals are restricted, industry representatives say that chemical manufacturers and distributors would be badly hit and as a result workers could be idled. Hazardous chemicals and other freight, as well as commuters, would be pushed back onto congested roads in large cities like New York, Chicago and Boston.
Serious consequences
Sarah Feinberg, the current acting administrator of the FRA, told a Senate hearing on 17 September that was held to consider making her post permanent, that the consequences of railways suspending services would be serious. 'I think it would lead to significant congestion, and that does also lead to safety impacts,' Feinberg said. For example, she emphasised her concern that TIH products would likely move by truck over highways if they could no longer be transported by rail.
Feinberg stressed that Congress has the authority to extend the deadline for adding the new safety features. In July, the Senate passed a transportation reauthorisation bill that would allow railways to delay PTC implementation until 2018. However, the House of Representatives has not yet approved any mechanism for railways to postpone PTC implementation.
If the current deadline remains in place, and railways choose to operate in violation of the law, Feinberg said the FRA will issue fines and will likely impose additional requirements to raise the safety bar. 'We believe the fines will be significant,' she warned, noting that each violation carries a maximum fine of $25,000 per day, and choosing to operate into the new year without having implemented PTC would likely constitute multiple violations.