Police and safety body investigate as University of Southampton PhD student exposed to thallium and arsenic falls ill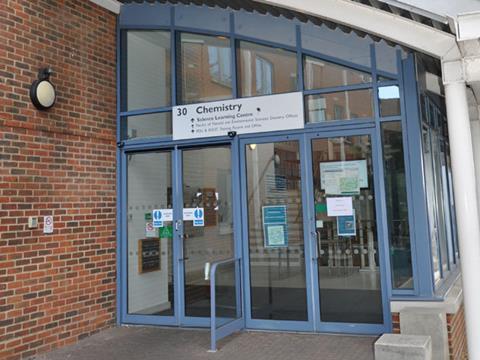 Police say that they are 'investigating all scenarios' after a University of Southampton PhD student was taken to hospital with highly toxic thallium and arsenic species in their body. The 25-year old had been feeling ill for around three weeks and is now being treated at a specialist toxicology unit in Cardiff. The police and the Health and Safety Executive (HSE) have extensively tested the university's synthetic chemistry building, to establish how the poisons got into the victim's body.
The building has been off-limits to researchers and students since it was closed as a precaution on the evening of 12 September. All but one floor, which is part of the continuing investigation, reopened this morning. Staff and students working in affected areas will be given the opportunity to be tested for exposure, a university spokesperson says.
'We would like to reassure students, staff and the public that this is an isolated incident and may not be linked to the university,' the spokesperson adds. 'We hope that the remaining facilities will be able to reopen by the end of this week following further testing. We anticipate that this will not affect the arrival of new or returning students who are studying chemistry or related subjects and courses will begin as scheduled at the start of term.'
Southampton inorganic chemists regularly investigate arsenic chemistry and have published research producing novel thallium compounds in the past decade. The university says this incident did not arise from such studies, however. 'These substances are used in our labs in small amounts in controlled conditions,' a spokesperson says. 'But this was not part of an experiment and the police are investigating the case.'
'Our thoughts are with our student and their family at this difficult time for them and our student support staff are providing further assistance,' says Adam Wheeler, university provost and deputy vice chancellor.
Thallium is toxic because its charge and ionic radius allow it to mimic potassium. Around 20 cases of thallium poisoning are reported each year to US Poison Control Centers. Usual treatments include pumping the stomach, giving the patient activated charcoal to adsorb the thallium salts and Prussian blue (Fe7(CN)18) as an ion exchanger to increase its elimination in faeces. Just a few months ago doctors recommended adding dialysis and blood purification to that list. Thallium salts have long been used in malicious poisonings thanks to their flavourless, colourless nature.
Arsenic is also difficult to distinguish by taste in low dosages, and is toxic because arsenate ions can resemble phosphate. Stomach washing is among the first treatments for acute poisoning, with intravenous fluids and blood transfusions also used. Chelation therapy with dimercaptosuccinic acid (DMSA) or 2,3-dimercapto-1-propanesulfonic acid (DMPS) may be needed for severe arsenic poisoning.
Full disclosure: The author studied chemistry at the University of Southampton and contributes to an undergraduate unit there.