Safety body says chemical plant exposed workers to fire and explosion hazards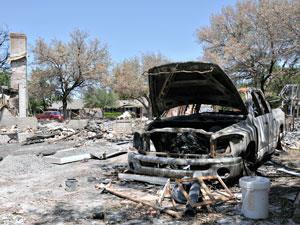 The US Department of Labor's Occupational Safety and Health Administration (OSHA) has cited the West Fertilizer chemical plant in Texas for 24 'serious safety violations', stemming from a fire and explosion there in April. It is believed that 15 people died and more than 200 were injured by the accident. The proposed penalties total $118,300 (£74,000).
The news was announced on 11 October by Senator Barbara Boxer, a Democrat from California who chairs the Senate Environmental and Public Works Committee that oversees environmental policy. The lawmaker held a press event in the midst of the US federal government shutdown, because the usual communication channels are blocked during the funding hiatus and she wanted to publicise the development.
OSHA cited the West facility for exposing workers to dangerously stored ammonium nitrate, as well as the danger of chemical burns and inhalation hazards from anhydrous ammonia.
Specific safety violations by the plant include unsafe handling and storage of ammonium nitrate and ammonia, missing data plate and labelling of ammonia storage tanks, failure to pressure test replacement hoses and a number of other failures. OSHA also found that West did not have either an emergency response plan or a respiratory protection programme.
In July, the Chemical Safety Board (CSB) concluded that the West blast was caused by ammonium nitrate, which represents about 2% of the total applied nitrogen fertiliser applied in the US. The compound is a strong oxidiser that reacts energetically with organic materials, and can detonate when heated strongly.
A history of failure
'This was an accident waiting to happen,' Boxer stated at her press event. She noted that OSHA hadn't inspected the West facility since 1985.
Various agencies have ongoing investigations of the West accident and they may propose their own penalties, Boxer said. She suggested that fines need to be strengthened against chemical companies for similar lapses.
Boxer also took the opportunity to publicly lambast Republicans, blaming them for the shutdown. She urged the people of Texas to tell their representatives on Capitol Hill to reopen the government so that progress can be made by federal agencies to improve chemical safety.
An executive order issued by President Obama in August, in the wake of the West explosion, directed agencies to review industrial chemical safety regulations and improve coordination. But this directive has been stalled by the shutdown.
In addition, the CSB – an independent federal agency charged with investigating the causes of industrial chemical accidents – has also been essentially closed down by the shutdown. The board has halted its investigation of the accident at West and furloughed all but a handful of its staff.
'If a major chemical accident were to happen in an American community tomorrow, we have no ability to respond,' stated CSB's chairman, Rafael Moure-Eraso, during a press conference hosted by Boxer on 8 October. 'We all just hope and pray that the shutdown ends soon,' he said.