Agency closures caused by political impasse on Capitol Hill sees scientists sent home and industry irritated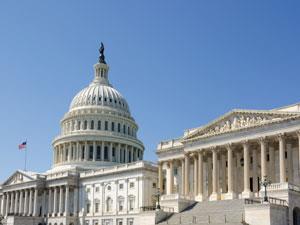 Researchers working at American universities and agencies are reeling after the US government shutdown on 1 October. The chemical industry has not escaped the effects of the political spat either.
Science agencies like the National Institutes of Health (NIH) and the National Science Foundation (NSF) are not processing, awarding or funding any new research grants during this hiatus. There is also greater uncertainty about when the government will act on key legislative priorities of the chemical industry.
Federal agencies came to a grinding halt after Congress failed to reach a budget deal due to an ongoing dispute over a Republican plan to defund President Obama's healthcare law, which has become highly politicised. Democrats and Republicans failed to reach an agreement in time for the 1 October start of the new fiscal year (FY) 2014.
'If the shutdown lasts a week or two, the impact shouldn't be that great on the chemical industry, but if it's extended like the shutdown almost 20 years ago, chemical makers will most certainly feel some impact,' said Bill Allmond, who runs government relations for the Society of Chemical Manufacturers & Affiliates (SOCMA).
The US federal government experienced a shutdown that lasted for six days in November 1995, and another that continued for 21 days from December 1995 to early 1996 over disagreements on funding for public health and welfare. Some knowledgeable sources expect the current closure to last no more than two weeks, but others predict that it may be more prolonged.
The immediate impact of the shutdown is that more than 70% of employees at the NIH and NSF have been furloughed, as have more than 90% of employees at the Environmental Protection Agency (EPA) and the National Institute of Standards and Technology. Among those furloughed are intramural researchers who work at the agencies and the support staff required to process research grant applications.
Delaying and disrupting
'Without critical federal research funding, grants will be eliminated or delayed, thus disrupting the scientific enterprise that drives US innovation,' warns Glenn Ruskin, a spokesman for the American Chemical Society.
Academic researchers working under grants that were funded with FY2013 funds can continue their work during the shutdown, but 'everything is on pause' for those researchers whose funding was winding down and had hoped to get their next grant started in FY2014, explains Joanne Carney of the American Association for the Advancement of Science (AAAS).
Carney, who directs the AAAS's Office of Government Relations,adds that the shutdown has also affected the ability of researchersto hire graduate or postdoctoral students to work in their labs. 'There is no one who is allowed or able to cut the cheques,' she tells Chemistry World.
When it comes to the chemical industry, Allmond stated that members of his trade group who conduct contract work with federal agencies like the NIH have probably been asked to stop that work until the government is up and running again.
He also said the shutdown has caused policymakers to place key issues on the backburner, such as reform of the US Toxic Substances Control Act, which regulates the introduction of new or already existing chemicals, as well as various other tax reforms. There is also greater uncertainty from a regulatory standpoint. For example, Allmond says there is a question mark over the second round of talks between the US and the EU over the Transatlantic Trade and Investment Partnership. Those were set to take place in Brussels next week.
Regulatory uncertainty
'We anticipate the meeting will be postponed as a result of the government shutdown,' Allmond says, noting that this free trade agreement with the EU is especially important to the chemical industry because it has more to gain than any other US industry.
'In 2011, chemical makers paid more than a billion dollars in tariffs to export to the EU, and those tariffs would be reduced or eliminated under the agreement,' he adds. 'The government shutdown stops all progress on that.'
There is additional concern that the government shutdown will affect how quickly chemical companies can get new chemicals approved and on the market. 'EPA's new chemicals review process takes time even when the government is open,' Allmond says.
Obama's executive order directing federal agencies to review industrial chemical safety regulations and improve coordination in that area, which he issued back in August, in the wake of the deadly West fertiliser plant explosion in Texas, has also been stalled by the shutdown. The president had specified that the disparate agencies tasked with regulating chemical sites need to identify ways to share data and work together more efficiently. To advance that goal, a listening session was supposed to take place on 1 October with the Department of Homeland Security, the EPA and the Occupational Safety and Health Administration to discuss ways to improve chemical safety.
SOCMA had planned to participate in that session, but it has been postponed, Allmond says. Delaying efforts by agencies to improve chemical safety is not in anyone's best interests, he adds.