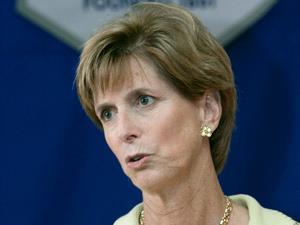 Christine Todd Whitman, who ran the US Environmental Protection Agency (EPA) under former President George W Bush, is warning that the plan the agency unveiled in February to improve the safety and security of US chemical facilities is inadequate. In a letter sent to the current EPA chief Gina McCarthy, Whitman urged the agency to 'strengthen' the rule, particularly by requiring numerous high-risk chemical facilities to transition to so-called inherently safer technologies (IST). These technologies involve modification of plants' chemical processes to reduce or eliminate hazards, rather than simply control them.
Whitman, who currently runs the energy and environmental consultancy Whitman Strategy Group, suggested that such a shift to IST is needed to reduce the public health and safety threat posed by the accidental or deliberate release of hazardous substances from chemical plants. She also called on the EPA to broaden IST analyses to more high-risk facilities, such as water treatment plants and all chlorine plants. In addition, Whitman argued that all of these analyses should be submitted to the EPA, and completed much sooner than the four years required in the agency's proposed rule.
Furthermore, Whitman also advised the EPA to create a publicly accessible source that contains detailed information about safer chemical processes and substances, including details about the implementation, cost, efficacy and feasibility of such alternatives.
Coincidentally, Whitman's letter arrived the same day as investigators from the US Bureau of Alcohol, Tobacco, Firearms and Explosives announced that the fatal explosion in the West Fertilizer plant in Texas was an intentional crime, and not an accident as was originally believed.