The scientific community in Argentina is on edge as a far-right presidential candidate who has vowed to eradicate the country's science ministry and dissolve the government agency that funds most of the research at the country's universities prepares to fight a run-off election next month. Javier Milei came in a close second behind Argentina's economy minister, Sergio Massa, in a general election on 22 October, but neither candidate garnered enough votes to win the presidency outright.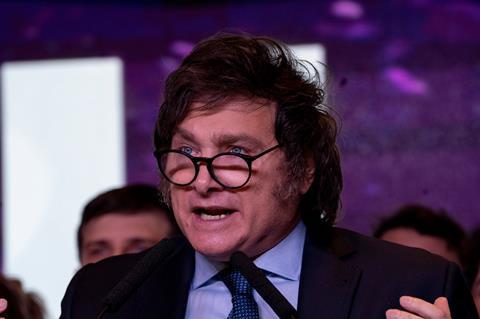 Milei, who came in around seven points behind Massa, wants to privatise or eliminate Argentina's main science agency known as the National Scientific and Technical Research Council (Conicet), which funds the work of about 12,000 scientists at 300 research institutions across the country. One of the two men will be elected president in a November 19 run-off vote. The country's current president, Alberto Fernandez, announced back in April that he would not seek re-election amid a fragile economy and extreme rates of inflation.
'After the primary election, a lot of people started panicking because Milei did so well and the possibility of him being elected president seemed to be real – before that I think everybody kind of underestimated him,' says Emiliano Cortés, a nanomaterials expert based at the University of Munich in Germany.
'But alarms went off and a lot more people turned out to vote in this general election,' continues Cortés, who was born and educated in Argentina. Approximately 69% of the electorate voted in the primary election, but in the general election that rose to 77%, he says. This represents around two million more people voting in October's general election compared to August's primary in which Milei took the most votes of any candidate. In the end, Milei lost some votes between the primary and general elections while Massa gained about 10% more votes, Cortés notes.
However, Milei has strong support from young people in the country aged 16 to 25 years, who are attracted to his anti-establishment message. Importantly, Argentinians can vote at 16 years old. 'There has been a lot of mobilisation by professors and lab supervisors to help students realise what would happen if Melei gets elected,' says Gerardo Burton, an emeritus chemistry profesor at the University of Buenos Aires. 'And the scientific societies have made public communications opposing this closure of Conicet and the science ministry.'
For example, the National Academy of Exact, Physical and Natural Sciences of Argentina has issued a statement opposing Milei's platform. It expresses the consensus among its members that 'without state investment in science, there is no future'.
Private sector pitfalls
All of the researchers contacted by Chemistry World for this story expressed some relief because they now believe that Massa has a good chance of beating Milei in the run-off election next month.
'It's a big problem that Milei sees science as a way of producing commodities only,' says Cortés. 'He doesn't see science as a way to change people's lives for the better or to solve problems that are not strictly related to commodities, like health issues.'
Burton takes a similar view. 'Milei has proposed shutting down Conicet and privatising scientific research, which is imposible,' he says. 'The private sector doesn't have enough financial power to finance basic research.'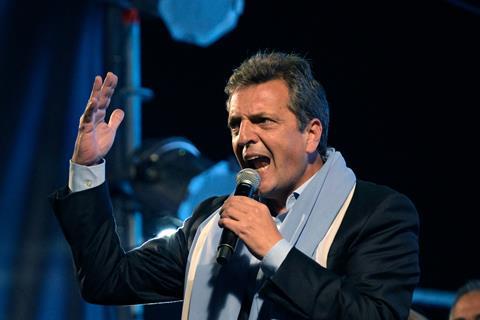 He notes that while many pharmaceutical companies in Argentina are involved in significant research and development efforts, these are typically focused on applied research, rather than fundamental science. 'Without Conicet support it would be very difficult for someone to develop a new compound for pharmaceutical use without some financing from abroad, but currently with how our economy is going it's very difficult to get investment from abroad,' Burton warns.
Omar Azzaroni, an adjunct chemistry professor at La Plata National University and Conicet member, also emphasises that private companies typically allocate funding for short- or mid-term projects with specific deliverables. 'But you need fundamental basic science to create the bedrock for developing new technologies, or trying to reach new horizons in terms of technology changes ,' he says.
Meanwhile, Burton worries that closing the science ministry would reverse at least two decades of progress the country has made in funding research and procuring updating scientific infrastructure at Argentinian institutions. 'That would be lost,' he tells Chemistry World.
Massa seen as pro-science
Science ministry programmes have enabled research centers throughout Argentina to purchase millions of dollars in high-quality instruments every year, Burton says. Those are dedicated funds that would no longer exist if the science ministry was shut down, he notes.
In contrast to Milei, many researchers agree that Massa has a clear position that scientific research is an essential part of Argentina's economy and should be supported with public funds. They note that Massa has also unequivocally stated that science must be included in the government policy and decision-making process, whereas his opponent has expressed the opposite viewpoint.
There is significant concern that many of the thousands of researchers funded by Conicet would depart Argentina if Milei wins the election. 'Many would leave the country,' Burton predicts, pointing to a similar brain drain that followed the 1976 military coup. 'A lot of researchers left – some did come back, but most did not,' he recounts.
María del Pilar Buera, an organic chemistry professor at the University of Buenos Aires and senior researcher at Conicet, says it's also likely that newly minted PhDs and postdocs would choose to go abroad in the event of a Milei win. 'They will go to another country,' she states. Del Pilar Buera believes that if Milei were to win the presidency, it would fuel a perception that there is more opportunity elsewhere. 'In that case, when they get their diploma they will leave.'

Rebecca became the US Correspondent for Chemistry World in September 2014, based out of Washington, DC, after writing for the magazine on a freelance basis since 2007.
View full profile