Over the last few weeks, the UK's main political parties have started laying out their stalls on the issues the next election will likely be fought on. A general election must take place in the UK within the next 15 months. And with Rishi Sunak's record low approval ratings, many analysts are predicting that the next government will be led by Keir Starmer's Labour party. So what might be at stake for the UK's research sector when the next election comes around?
R&D investment
In a recently published industrial strategy document, Labour said it wanted 3% of the UK's GDP to be invested in R&D. The Conservatives have had a long-standing goal for R&D spending to reach 2.4% of GDP, in line with the Organisation for Economic Cooperation and Development's average. However, Kieron Flanagan, an expert in science and technology policy from the University of Manchester, points out that both of these targets have likely already been reached, in large part due to a recent change in the way that the Office for National Statistics measures R&D spending.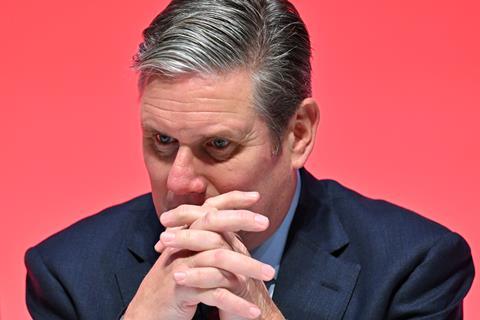 'This is a clever way that politicians con the science community by talking about R&D as a percentage of GDP – two-thirds of which is private spending that they have no control over,' says Flanagan. 'You can set a target and make a commitment, but there's not a lot you can do to achieve that.'
However, Flanagan points out that while governments can't force large companies to ramp up their R&D spending, they do have indirect levers that can help. 'It's about the environment in the UK for investment. It's about the strength of the science base, the strength of the skills, all of those kinds of things. It's about consistency in policy,' he says. 'Some of those things we clearly have. Some of those things clearly we haven't had for the last 10 years or so. Especially consistency in policy and broader faith that that public investment plans will actually materialise.'
According to Flanagan, the government's recent cancellation of the northern section of the high-speed rail project HS2, and the Labour party's failure to challenge this, will signal to international investors that the UK is 'no longer a trustworthy environment'. He says that Sunak's recent reversal of green commitments and weakening of net-zero policy will also affect investors' confidence in the UK.
'For people to make those kinds of investments they need to trust the government is going to live up to what it says. They also need to know that the required infrastructure will be in place,' says Flanagan. 'And clearly, you can't believe anything the British government tells you now about infrastructure. And I think that will transfer to Labour as well – I don't think international investors are going to differentiate between the parties in terms of trustworthiness. I think the damage is probably done and it might take a decade or more to repair.'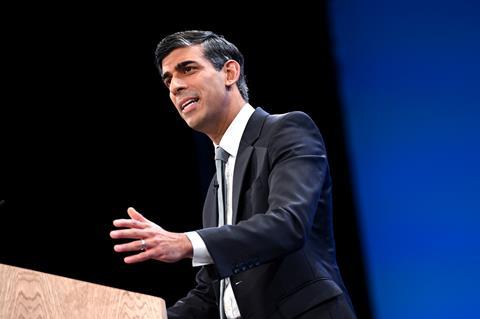 Beyond the raw numbers, Flanagan points out that an important factor is how R&D spending grows relative to demand and the rapidly increasing costs involved in doing research. 'I don't think anybody's really tracking inflation in the UK science space,' he says. 'The US National Institutes of Health calculate an inflation rate for biomedical research – but nobody calculates that in the UK.'
Ten-year budget
During the Labour party's recent conference in Liverpool, shadow science secretary Peter Kyle referenced the uncertainty that has faced the research sector in recent years, including the UK's near-three-year absence from Horizon Europe, which was only resolved last month. According to Kyle the Conservative government's 'chaos and instability' has been 'bad for innovation and bad for investment'.
In his conference speech, Kyle suggested that a Labour government would 'create certainty with 10-year R&D budgets'. This proposal has been warmly received by many in the science community. Hetan Shah, the chief executive of the British Academy, described the announcement as 'fantastic' on social media and noted that such a policy would 'really allow for better research and science to the benefit of society, our economy and environment'.
'After a decade in which we've suffered from endless tinkering with the design of the UK research system, which has rarely been followed through with serious and sustained funding – plus the upheavals of our temporary exile from the EU framework programmes – the signals this week from Keir Starmer and Peter Kyle of a return to long-term stability and investment will be music to the ears of many in the research community,' notes James Wilsdon, an expert in research policy based at University College London.
'The Blair–Brown government brought us the 2004 10-year framework, which remains one of the most effective attempts by any government since the 1960s to articulate a clear and deliverable long-term vision for the science and innovation system, and its contribution to our economy and society – so returning to that approach is the right starting point for an incoming Labour government,' he adds. 'What the R&D system needs now is not a fresh round of structural or institutional reforms, but a commitment to making what we have work more effectively.'
How exactly a new government could guarantee 10-year R&D budgets isn't clear. In the UK, elections must be held every five years, and no government can bind its successor. While major swings in science policy are unusual as there is little to be gained politically for any government by cutting science budgets, Flanagan notes that the previous Labour government's 10-year outlook only contained three years of spending plans as part of a spending review. In the years that followed, the financial crisis, a change of government and the introduction of austerity measures hit science spending. However, Flanagan also points out that giving UKRI greater flexibility to transfer unused budgets from year to year, could help to provide greater certainty for research spending.
'The things that will make a difference to long-term levels of R&D in the UK: our infrastructure, and how close we are to the single market – those are things that that Labour does have the opportunity to influence, but [Starmer] has been very coy and cautious about,' says Flanagan. 'Now, to be fair to Labour, they've got quite a bit of time to start unveiling a more detailed policy platform.'
Research clusters
One area that Labour and the Conservative party appear to agree on is the need to support the UK's research clusters. These hubs typically feature businesses, universities, research organisations and related bodies located in close geographical proximity to each other. The benefits of these clusters include the presence of a large highly skilled workforce of people who are specialised in related sectors. This can help to transfer knowledge between firms, and also provides a customer base for growing businesses. The hope is that these clusters can emulate the success of places like Silicon Valley.
During the Conservative party conference in Manchester, science minister George Freeman stressed a need for the government to stop announcing national policy frameworks and instead look at addressing the needs of individual research hubs. Freeman has led work on analysing around 25 clusters in the UK, with a view to providing targeted support for them. During the Labour party conference, shadow science minister Chi Onwurah praised this work, saying that it was something a future Labour government would 'look to build on'. However, Freeman has also voiced fears that the country's ability to provide skilled workers for these research hubs could be hindered by current immigration policy, noting that the government's plans to bolster the science sector would not be possible behind a 'visa wall'.
Also speaking at the Conservative conference, UK chancellor Jeremy Hunt highlighted his recently announced 'Mansion House reforms', which the government hopes will direct investment from pension funds into smaller businesses. The government says that this deal could unlock up to £50 billion of investment into high growth companies – including science start-ups.
'Wokeness'
During the Conservative conference the UK science secretary Michelle Donelan opened up a further dividing line with a strongly worded speech attacking the 'slow creep of wokeism' in science. During the speech she claimed that 'university bureaucrats' were preventing scientists from asking research questions on biological sex. Following this, Donelan announced that the government would safeguard scientific research from 'the denial of biology', and would launch a review into 'the use of sex and gender questions in scientific research'. The Conservative party also posted on social media that it would 'depoliticise science', adding that the party would kick 'woke ideology out of science'.
The controversial speech received a strong backlash from many in the scientific community, with more than 2000 UK scientists signing an open letter raising concerns about what the speech says about the government's views on science policy and inclusion. The authors note that rather than depoliticising science, the government's actions appeared to be 'driven by ideology'. They also point out that attempts by the government to dictate how research on sex and gender are investigated by academics would contradict the Haldane principle – a concept written into UK legislation that places decisions on research proposals in the hands of researchers themselves, rather than politicians.
Shortly after the speech five major scientific societies including the Royal Society of Chemistry and the Royal Society of Biology released a statement reaffirming their commitment to inclusivity. Other commentators have argued that rather than championing the objectivity of science, Donelan's intervention suggests a distrust of academics.
During the Labour party conference Onwurah responded to Donelan's speech by saying that a Labour government would not 'drag the culture wars into science'.

Jamie Durrani is senior science correspondent for Chemistry World. He reports on the latest chemistry research and related topics including environment, energy and science policy.
View full profile