Martin Luther Kings great 1963 speech calling for racial equality and an end to discrimination
In his great 1963 speech calling for racial equality and an end to discrimination, the leader of the American civil rights movement - Martin Luther King - made his climactic rallying cry, 'I have a dream'. It was a call to arms that would echo across the world. For lesser mortals, dreams fade or change with time. We adjust. We grow up. We compromise. But I can honestly say that I once met a man who told me that his very childhood ambition had been fulfilled.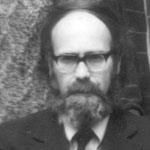 Richard Pardy is one of a pair of twins born in Selby in Yorkshire in 1955. His father, a coal miner, was keen for his children to escape the tough life that seven generations of Pardys had followed. He encouraged his twins to carry out scientific experiments. Soon they were experimenting with their father's Davy lamp in the coal shed. Later they would spend happy hours distilling coal, concocting dyes, and tinkering with the explosives that their father would smuggle out of the mine. Rumours that they blew up the tuck shop at school have never been confirmed.
In spite of excellent A-levels, Pardy never gave a thought to university. Leaving school, he followed his brother into the Royal Navy, where his physical prowess led him to selection for the special forces. With the outbreak of the third cod war he saw action in the North Atlantic, and was cited in dispatches. He would later recount the story of an expedition to South Georgia in the Falklands to save a colony of penguins, now housed at London Zoo.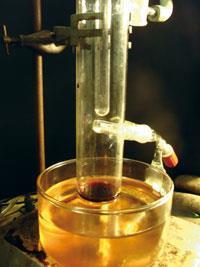 But Pardy became disillusioned with Navy life, in parallel with a gradual attachment to Tibetan Buddhism. His pacifist leanings led to him resigning his commission and returning to his other love, science. After a degree at the University of Cambridge, he joined Malcolm Green's group at the University of Oxford where he worked on some of the key themes in the group - counting to 18, the greasing of stopcocks, and the isolation of agnostics.
One of the biggest problems he encountered was the difficulty of purifying highly air sensitive low melting solids, or even oils. Distillation was the only option. But the Thorne-Perkin triangle technique (see Chemistry World, January 2009, p69) is not easily applied to small volumes - only a short path distillation device would do.
A solution was found during a heated discussion after a group meeting at Oxford's King's Arms pub, and sketched on a napkin - which is reproduced here. A Schlenk flask was modified to incorporate an angled Quickfit socket that held a removable receiving tube, to which could be attached another schlenk flask. The oil could be distilled from the main flask, via a water-cooled probe into the receiver and drained into another schlenk under inert atmosphere. The apparatus was widely adopted and soon bore Pardy's name.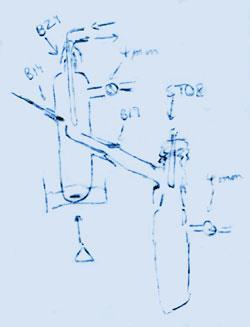 After Oxford, Richard married his childhood sweetheart, Coqueletta-Marie, a fellow chemist. The Pardys now had to struggle with the well known two-body problem. Nevertheless, both found jobs in petrochemical research first, and then pharmaceuticals, spending time in China setting up fine chemicals synthesis facilities there - long before it became fashionable.
But Richard was a long way from home and his Tibetan connections made life uncomfortable. An offer of a job at a startup pharma company in the UK was enough to draw him back as part of their synthesis team. Though the facilities were primitive, the exciting synthetic targets made the work a pleasure and a challenge. Disaster struck, however, in 2002 when an industrial espionage scandal, rumoured to involve a company in the Far East, led to the dismissal of three senior employees. Because of his Chinese experience, Pardy too found himself under suspicion. His strenuous assertions of innocence went for nought. He was forced to resign.
The Pardys left chemistry forever. Together they bought a failing country pub in the picturesque village of Drax in Yorkshire, not far from where Richard had been born. The appropriately named Cock and Bull is decorated with an eclectic mixture of chemical, military, and oriental memorabilia. Above the mantlepiece, occupying pride of place is a glass case containing the first large-scale Pardy apparatus with the latin inscription: Riccardus Pardius fecit .
It is not enough to have a dream. You have to realise it too.
Andrea Sella teaches chemistry at University College London, UK
References
R B Pardy, DPhil Thesis, University of Oxford, 1977
Thanks are expressed to Loof Lirpa, MLHG, GCS, and MFG for assistance with this article