Five lessons from the career journey of an accidental chemist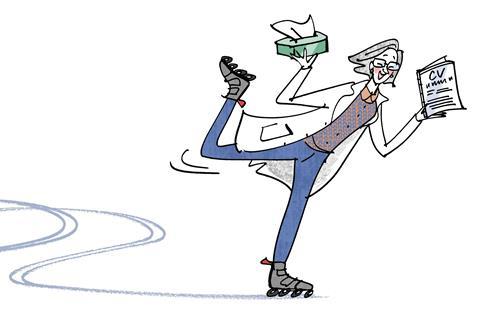 I don't tend to discuss my journey into chemistry because I am a bit embarrassed to admit why I chose it. I would like to tell an impassioned story about my light bulb moment, that burning desire and a vision of a future of scientific achievements that cemented my decision to take up chemistry. But, I cannot. All I can say is, it's thanks to rum and my grandmother.
At school, I had always been interested in the sciences and when the time came to choose a university degree, my options were mathematics, botany, biology and chemistry. I wasn't interested in a desk job so mathematics was out. I struck botany off the list because I couldn't foresee a future career in the Philippines, where I am from. I didn't want to be a medical doctor so biology – which inevitably led into medicine – was crossed out too. Chemistry won, therefore, by the process of elimination – or so I thought.
My choice wasn't a surprise to my family because, according to my father, chemistry is in our genes. He says the first chemist in the family was my grandmother. She used to dilute the rum that my grandfather bought so he wouldn't get tipsy so quickly. Her plan worked incredibly well until a guest brought a bottle that my grandfather decided to open straight away. When my grandfather took his first sip, he was astonished at how strong it was!
My aunt, brother, sister and five cousins all later became chemists, so chemistry is obviously the dominant allele.
From these close family beginnings, my journey as a chemist has taken me 25,000 miles, from the Philippines to the United States and back again, and then to the United Kingdom via Spain. I learned more than a few lessons along the way, but there are five that really stand out.
I was just 16 when I started university, at a Philippine government-owned educational institution. Most of the professors were quite liberal and were of the thinking that students should be responsible for their own learning; attendance to classes was therefore not mandatory. Coming from a strict all-girls school, this was such a revolutionary concept that I just had to test it comprehensively. This taught me my first lesson – photocopying a classmate's lecture notes is not the same as attending class.
I completed my bachelor's degree when I was 20 and, in all honesty, I didn't know what to do next. Without even realising it, I decided to go to graduate school by the same logical method I used to choose chemistry as my degree: after eliminating teaching at university and working in industry, it was the only option left. I attended the PhD programme at a university in upstate New York and joined the physical organic chemistry research group. Unfortunately, I quickly learned that synthesis, the subject I was most interested in, wasn't my forte. Good thing my more senior lab mates taught me the tricks of the trade early on, along with my second lesson – the Kimwipe™ extraction for recovering spilled product mixtures from work benches and laboratory floors is a powerful technique that students should master in their first year of research. (Other brands of cleaning wipes are also available.)
Severe winter weather meant I had to be creative with my indoor activities
It must have been when I was performing the Kimwipe™ extraction from the floor that I made a wonderful discovery. Severe winter weather meant I had to be creative with my indoor activities. I had already taken up baking and I was looking for some form of indoor exercise. And so I learnt my third lesson – the resin floor of science building hallways is a great surface for rollerblading.
After six years of traversing the corridors, it was time for me to roll on to somewhere new. My first job after completing my PhD was with the brewery division of a large food conglomerate in the Philippines. I learnt my fourth lesson here – working for a brewery may seem like a dream job, but morning and afternoon beer tasting sessions will eventually take the fun out of social drinking because it'll feel like you're still at work. In retrospect, I should have taken into account my genealogy and applied to the distillery division instead.
I now work as an analytical chemist and have done since my husband John and I moved to the UK. So the final lesson I'd like to share is that organic chemists make great analytical chemists, because the skillset of an organic chemist will come in handy, especially the Kimwipe™ extraction technique. But of all of my skills, it's my inherited talent in performing dilutions that has proven to be the most useful. I should start practicing at home with John's stash of liquor so I'll get even better at it.