Vera Rich provokes consternation at RSC event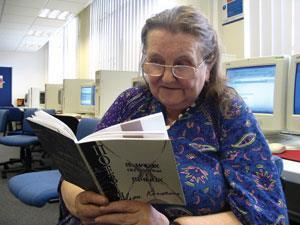 A symposium was held at this year's Annual Congress at Lancaster University entitled Health and safety in the chemical laboratory: where do we go from here? This symposium brought together speakers from the UK and overseas describing how different countries tackle the problem of safety regulations. There was a sudden disruption from the floor after Vera Rich of Nature had described the scanty information available on safety practices in the USSR – the interruptor complained that the Society had thereby introduced a political note into the proceedings.
Chemistry in Britain (June 1983)
Ed. Staff present at this symposium may well remember probably the only occasion when a delegate at an RSC meeting had to be escorted from the room by a group of 'RSC heavies'!
Vera Rich was an eminent translator (especially from Belarusian and Ukrainian into English) and poet. She was also an active campaigner for human rights and democracy in the USSR during the Cold War.
It is said that in 1969 she met John Maddox, the then editor of Nature, and after a 'friendly conversation and a few glasses of sherry', he appointed her Soviet and East European correspondent.
Originally a temporary position, Rich worked at Nature for over 20 years despite not being granted a visa to any of the countries she covered.
For more information on this remarkable woman, see her obituary published in The Times on 25 January 2010.