MPs were entertained with dry ice at the RSC's first chemistry week exhibition in Westminster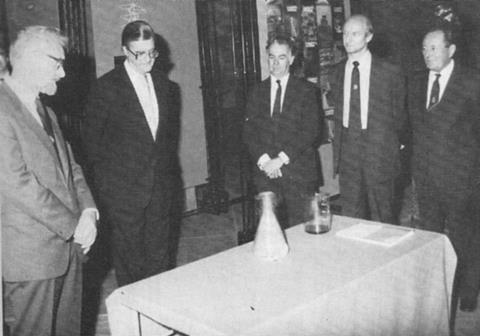 The main hall of Westminster was an imposing location for the RSC's Chemistry Week in Parliament exhibition – the first event of its kind held by the RSC. It also scored an historical first for the Society as the first exhibition to be allowed to take place in Westminster Hall. Kenneth Baker, secretary of state for education, opened the exhibition with a dash of real bench-top chemistry as he poured water coloured with bromocresol purple onto dry ice to create billowing white smoke – certainly a novel sight in the 11th century hall! The exhibition focused on the RSC's role in keeping MPs informed of topical issues in chemistry, in particular through its unique Parliamentary Links scheme. The RSC's two parliamentary advisers, Michael Clark MP and Donald Anderson MP were present at the opening. Also featured was a computer database for MPs, providing easy-to-read information sheets on current chemical issues in each constituency. The colourful display illustrating the benefits and developments of chemistry also attracted members of the public waiting in the hall for MPs.
Chemistry in Britain (December 1988)
Ed. The RSC was back in Westminster for this year's Chemistry Week with the winners of the Bill Bryson Prize receiving their awards from the man himself.