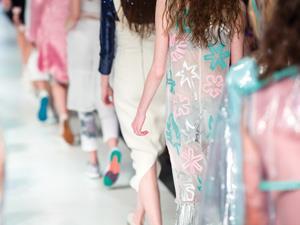 The RSC and the London College of Fashion have teamed up to put on a fashion show entitled Chemically chic at the Savoy Hotel in London. Chemistry's latest contribution to the world of fashion – thermochromic fabric, which changes colour while you wear it – was featured.
Student fashion models danced down the catwalk wearing a range of outfits, from figure-hugging to loose-fitting, made with fabrics dyed with Licritherm, a screen printing ink produced by Merck. The ink incorporates liquid crystals that change colour across a range from red to violet as the temperature rises from 28 to 35°C. The show began with a sombre parade of Victorian dresses in the muted shades created from animal and vegetable dyes. The palette of fashion was drastically changed with the discovery of synthetic dyestuffs, beginning with Perkin's creation of 'mauveine' in 1856.
In dramatic contrast, eight dancers changed the tempo and style of the show as they interpreted the four elements of earth, air, fire and water, decorated with body makeup and wearing dyed leotards, while the smoke of dry ice exploded around the stage.
The show also included a selection of outfits, including outdoor and sportswear, evening wear and lingerie based on Courtelle acrylic fibres from Courtaulds, Tactel polyamide fibres from ICI and Courtaulds' Shamash polyester fibres.
Chemistry in Britain (June 1991)