David Smith wonders why gay scientists seem to stay unseen, and asks does it matter?
Where are all the LGBT (lesbian, gay, bisexual and transgender) scientists? If you look at last year's Time magazine list of the 100 most influential people, 10% work in science and technology. But The Independent 'Pink List' (101 most influential LGBT people) has just two, and then only if you count a psychologist and a technology journalist.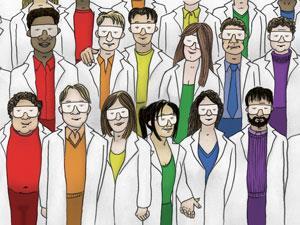 While that's hardly rigorous research, it makes me wonder. I'm a gay scientist, and I know plenty of others – so why aren't we more visible? Perhaps the LGBT community does not value or recognise the work of those in science, promoting instead artists, musicians, celebrities, politicians so on. Or perhaps LGBT scientists have been keeping quiet?
When Tom Welton asked a similar question in The Guardian the comments in response were often strong and sometimes hostile, typified (at the more polite end) by: 'Your sexuality is NOT important vis-a-vis your job.' Clearly, many scientists (including some LGBT ones) feel there is no 'issue' – research is all that matters; scientists are all just scientists. Does science truly exist in an accepting, 'post-gay' meritocracy? Or do we have a 'don't ask, don't tell' culture in which LGBT scientists remain a largely invisible minority?
In other fields where the LGBT community has low visibility – most obviously in sport – there have been major steps to establish role models. Just as in science, however, some people question why sexuality is relevant – suggesting that only a sportsperson's performance matters. But I believe their sexuality is important – positive accepted role models enable all individuals to aspire, and encourage them to realise there are no barriers to enjoyment and success, even in areas they may have thought were inaccessible. The lack of openly gay male professional footballers, for example, reflects negative attitudes in the game, is divisive and clearly limits aspiration.
I don't think for a minute that science has a problem on the scale of football. Personally, I have not experienced much homophobia beyond inadvertent assumptions: delegates surprised when I turn up at a conference with my husband (Sam); hotel or conference staff asking whether we really want a double room; event organisers automatically lengthening 'Sam' to 'Samantha'.
But we must not forget that we enjoy a privileged position in the UK, with equal rights, including marriage, for the LGBT community. Many LGBT scientists around the world do not, and some face prosecution, even death. Lecturing in such countries would be uncomfortable enough, but the LGBT scientists who work there need more than our silence. It would take a singularly heartless individual to tell these LGBT scientists that only their research matters.
LGBT role models acted as reassurance and inspiration
We know from the Athena Swan programme's work to promote women in science that female science students benefit from successful female role models who demonstrate the ability to balance career and personal life. Prompted by this, I surveyed some of our 'out' chemistry undergraduates and graduates about their experiences at York and the influence of LGBT role models. Their answers were remarkable.
Students said LGBT role models acted as 'reassurance and inspiration – especially to those who aren't out or who may not be comfortable with their orientation'. They also felt that local role models gave people 'confidence that they won't be discriminated against', which made the department a more welcoming environment. In contrast, a gay undergraduate from a major metropolitan university contacted me directly to say how isolated he felt because of the lack of visible LGBT students or staff.
Several students reported that the relaxed atmosphere at York with regard to LGBT issues helped their coming out process, especially when they had come from schools where such topics were 'swept under the carpet'. Surely this should encourage us, as scientists, not to do the same.
So does it matter that I am a gay scientist? It certainly doesn't make me a better or worse scientist, but I believe it matters that people know. So I make the choice to tell them: I have a Twitter feed, which makes no secret of who I am, and my biography now has a personal section mentioning my husband and interests. Our research has also been inspired by some of my husband's health problems. I use this context in both outreach and research lectures, and the positive response from young audiences is incredible.
Perhaps the worst aspect of arguing that 'only the science matters' is that it undervalues all of us as individuals, LGBT or not. Scientists work in teams, and teams work best when they understand and support one another. Diverse scientists will have diverse ideas and approaches – essential for cutting-edge research. And happy, fulfilled scientists will perform better. If we only care about the science, and not the people who do it, we won't achieve the best results. Nor should we be surprised if the public rejects science itself as elite and removed from the realities of life.
Science is one of the very best careers in the world – it has accepted me, given me some marvellous experiences and great friends. I want all students to be able to aspire to a job in science and realise that people 'like them' can succeed in this fantastic world, while still being true to themselves.
David Smith is a professor of chemistry at the University of York who tweets from @professor_dave