Few figures evoke greater pity than the orphan. In Victorian times, orphans consigned to the workhouse were stock figures, brought vividly to life by writers like Charles Dickens. If they were to make it in life, they needed either a mysterious and wealthy great aunt, or boundless wits and a great deal of luck. And for all the fashionable political talk today of social mobility, stories of prevailing over such adversity are still few and far between. But they are memorable. Consider then the remarkable success of an orphan of an orphan: Young's valve.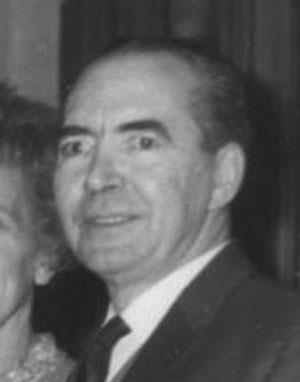 James (Jim) Young was born in 1915 in Saltcoats on the Firth of Clyde in Scotland. After his father was killed in action on the western front in the last weeks of the first world war, Jim was brought up by his grandmother, supported by the government's orphan's pension of '7/6 a week'.
At the age of 18, the local job centre drew his attention to an opportunity in London to work in the new neon sign industry. Excited by the bright lights of the big city, Young didn't hesitate and took the train south. After a government training course, he joined the glassware company Aimer. Making the signs required not just steady hands, but also a flair for design; Young loved the work.
After the second world war, Young – now married to a glassblower, Phyllis, and with a son, David – set up his own firm in north London making ground glass ball joints and high vacuum stopcocks. It was a good time to be in the business. Chemistry and the vacuum electronics industry were booming and there was an almost insatiable appetite for glass valves and fittings.
But Jim was set on expanding the business and in 1950 he gambled on an opportunity to set up in Toronto, Canada, serving the much larger North American market. It was a bust. The market proved impenetrable and the Youngs returned to England in 1952 to restart the business in Acton, steadily building a network of clients. Jim had outstanding abilities; his son David calls him a 'Leonardo among glassblowers'. But he also visited his customers to find out what they needed.
Some time in the early 1960s Jim visited the head of Shell's glass workshop, Ken Gee. As a teenager, Gee had been the Youngs' babysitter and had obtained his first glassblowing job on Young's recommendation. Gee showed Young a new Dutch ball joint that was equipped with an O-ring in place of ground glass making it interchangeable, greaseless and mercury-free. Could he make such a thing?
Jim started making prototypes, thinking about O-rings and how to make the grooves to seat them. He sent Gee the prototypes to test and Young's soon had a new line of products to sell.
A few weeks later, one of the works' hydraulic grinders failed. Keen to save money, Young and his son, now also a glassblower, took the machine apart. In the shaft, they spotted two O-rings that acted as a seal for the oil in the cylinder. It was a lightbulb moment.
Jim suddenly imagined a new kind of stopcock in which a cylindrical glass plug could be moved up or down in a precision bore barrel to open and close an opening in a straight piece of glass. The barrel was fitted with a brass flange equipped with a screw thread to drive the plug. But the first prototypes were too fragile and unbalanced to really work.
Then Young thought of Teflon, DuPont's inert new wonder-polymer. All of the intuition Young had honed in his days making signs came together in an inspired design that could only have come from a master glassblower. The Teflon plug was equipped with three O-rings – one in Teflon seating on a delicate bulb of glass blown at the junction of the glass manifolds and two more sealing the gap between the barrel and the plug itself. To make the thread, the precision tubing was heated inside a threaded steel pipe turned on a lathe. The plug was equipped with a threaded green plastic head.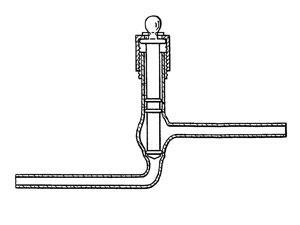 The result was a valve of elegant simplicity; clean, robust and reusable. When the green dye faded, Young asked the manufacturer to supply coloured plastic instead. They sent yellow. Though some users asked for colour-coded taps, yellow was the colour that stuck and that we lab rats would come to associate with the Young name.
Their patent appeared just in time. Within months Fischer·Porter in the US published an analogous, if less elegant design. At ICI in Welwyn, glassblower Donald Nightingale created a Teflon valve without O-rings but with an internal screw to compensate for thermal expansion: it would be marketed under the name Rotaflo.
Young continued to innovate, but the company struggled badly in the recessions of the 1980s and eventually went into receivership. The name Young still meant something, however, and the now orphaned yellow taps were quickly rescued by GPE Scientific. Today the stopcocks are as reliable and yellow as ever, with the name J Young standing proud on the cap. These are stopcocks I have known, depended on, and, yes, loved, for over 30 years. The orphan had made good.
Andrea Sella (@Sellathechemist) teaches chemistry at University College London, UK
Acknowledgments
I am very grateful to David Young for his reminiscences, to Rob Williams and Reece Bramley for hints and clues from their files and memories and to Kevin Doyle for giving me an early prototype.
References
J Young and D J Young, UK patent, GB1253205