The Francis Crick Institute's first exhibition showcases its scientists' research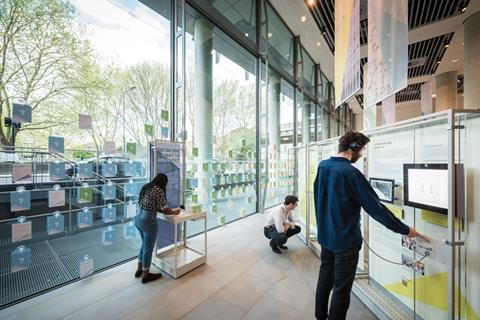 The Francis Crick Institute, London, UK
Open until 28 October 2017
Entry free | Details online
From the outside, the Francis Crick Institute is best appreciated on a sunny day. With its elegant metal and glass curves, the magnificent structure practically glitters – a jewel in the crown of British bioscience. Opened in 2016, the Crick is home to more than 1000 researchers and cost a hefty £700 million to build. This year it is offering visitors the chance to step inside with its first public exhibition, Open for discovery.
At first glance the exhibition itself looks a little small, especially in contrast to the grandness of the building itself. But its designers have gone to great lengths to make the displays visually engaging and keep the information relevant and attention-grabbing. They feature microscope images, moving graphs and videos, arranged alongside artefacts that range from glass apparatus to chicken eggs, all excellently annotated to explain their importance to the research.
The information visitors are led through starts with a brief overview of the institute's namesake Francis Crick, and some of the scientific principles that underlie its ethos and philosophy, such as the open exchange of scientific ideas. The physical design of the research space occupying the floors above, the exhibition explains, is intended to encourage collaboration and debate between the different teams of researchers.
The exhibition swiftly moves on to give a flavour of some of the cutting-edge biomedical research that is ongoing within the Crick. Investigations into cancer and immunology, the search for a universal flu vaccine and work towards novel tuberculosis treatments all feature, as do the groups who are working on them. I was pleased to see pictures of individual researchers along with headphones that allow you to listen to recordings of them describing their work, both of which help connect the research with the actual humans behind it. Visitors are also invited to write their own questions on a card asking 'what is the one thing you would like to know about the human body, how diseases develop and how they may be treated?' There were a lot of these pinned to the vast glass wall, and I hope this interactive element will be used to help shape future activities.
What the exhibition lacks in size it makes up for in quality, and the Crick should be commended for embracing the public engagement part of its mission. As I was browsing, a large gaggle of schoolchildren were being taken through, having been on a tour of the labs. It is great to see this, as the Crick could easily have become like so many other large research institutes – sleek and impressive on the outside but completely anonymous to the man on the street. Visiting was a good way to find out about the research that happens within its walls, though it's worth noting there is lots of good information available on the website if you can't make the trip.