Anna Ploszajski
Bloomsbury Sigma
2021 | 320pp | £17.99
ISBN 9781472971074
Buy this book on Amazon.co.uk
Buy this book on Bookshop.org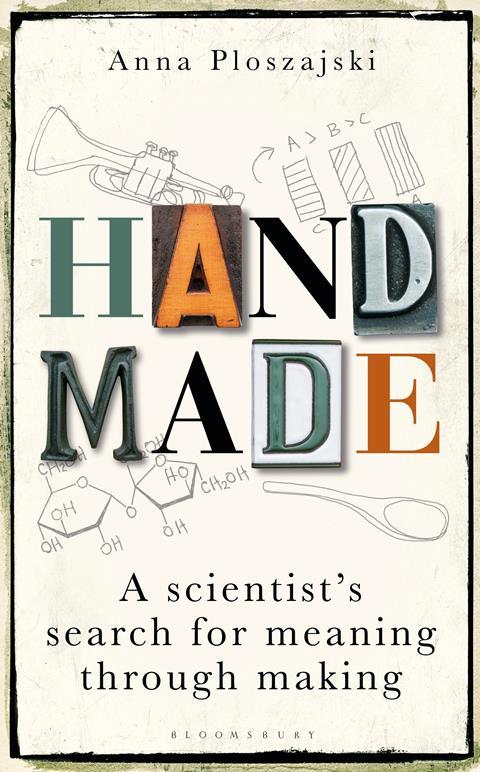 Were you one of the many people who took up crafting during the past year of lockdowns? Maybe you were already aware of the powerful mental health benefits of making something with your own hands? The things we make tell our stories, but the materials we craft with have stories of their own.
Conceived and researched before the Covid-19 pandemic, Handmade explores the connections between humans and materials. Each chapter centres on one of these substances. The first chapter is on glass – home turf for a materials scientist and author Anna Ploszajski. But after exploring plastic, steel and brass, Ploszajski then uses her expertise to unpick substances not traditionally described within materials science, like sugar and wool. Their properties may differ but they all feature in the handmade world.
The point of the book is to bring new narratives to materials we often take for granted. Ploszajski explains the science of using a particular material for a particular purpose alongside its social history. She also seeks out present-day craftspeople working with each material, often getting stuck in herself to give a first-hand account of the skills and emotions the crafting process evokes in a novice. Alongside all of this, Ploszajski also tells her own stories, reinforcing a theme of connections between people and materials.
The chapter on clay has stuck with me. I learnt that bone china is, well was, just what it says on the tin, and why ceramics are used on the outside of the space shuttle. Ploszajski also describes how making her own pottery helped her deal with bullying in the lab. Not that it sounds like the situation was properly resolved, but Ploszajski managed to find some sort of closure. It's another sad reminder that bullying and harassment is still prevalent within the sciences. Here's hoping it might encourage others to speak out or seek help.
Ploszajski writes with passion and honesty. The scientific explanations are perfectly balanced for general readers, and the stories are fascinating and thought-provoking. Reading Handmade might be the first time you come across Ploszajski, but I doubt it will be the last.
This book features in our book club podcast, which you can listen to here.