Dara McGrath and Robert Macfarlane
Kehrer Verlag
2020 | 216pp | £40
ISBN 9783868289671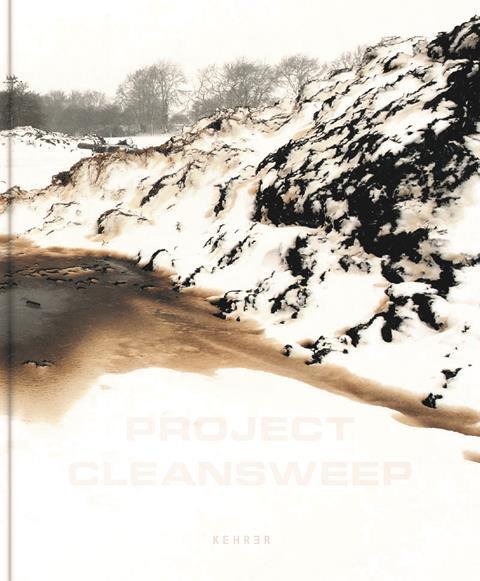 I was attracted to this book by its title. It sounded mysterious and suggested to me that some messy things happened in the UK's military history, things that are still visible in the landscape today.
Having read the book, I can say that the tile is spot on. Project Cleansweep focuses on the chemical and biochemical weapons developed by the UK for its past warfare activity and on how these impacted – and still impact – the British landscape and, unfortunately, its citizens. I loved the way the book is constructed, as it does not give away too much detail about its content in the foreword – instead, it takes the reader on a discovery mission.
Project Cleansweep is mainly a photography album, with short descriptions for most of the images. This calls for the reader's scrutiny – the photos, as the authors write, 'oblige the mind to stop, look, enquire '. The chapters are structured in a linear logical order, starting with manufacture, followed by chapters on storage, testing and dispersal.
Some of the facts presented in the book will probably stay with me forever, as they are truly shocking. There is a deep marine trench between Northern Ireland and Scotland that is the world's largest marine munitions dump, and an island off the coast of Scotland that was contaminated with anthrax spores, lead it to be under quarantine for 48 years. It is still uninhabited.
I felt truly sad to see that past military activity has produced such big scars in the British landscape, some which are still present today. It was even sadder to see the lives and health of generations of people so greatly impacted. Increased number of cancers and health abnormalities have been reported, especially in the East Lulworth area, downwind from the Lyme Bay testing sites. A newspaper extract from 1997 shows a family requesting a full investigation regarding the warfare tests in the area as three of their grandchildren have severe disabilities.
A letter from 2005 printed in the last pages of the book shows that 'Project Cleansweep' was in fact a Ministry of Defence (MoD) investigation. Its completion report was requested under the Freedom of Information act, but it was never made public. At the time, the MoD responded that this report was exempt from the act, citing that public interest in withholding the information outweighs public interest in its disclosure. The author's decision to include this snippet is a masterful invitation to start searching more information, which I did right after reading.
I would strongly recommend the book to anyone interested in history, chemical warfare and military disclosures. I read the book in one go, and when it ended, I craved more information. The photography is impactful, and it was all topped off by the lab-like smell of the book.