Mary Virginia Orna (ed)
American Chemical Society
2014 | 384pp | £32.99
ISBN 9780841230439
Buy this book from Amazon.co.uk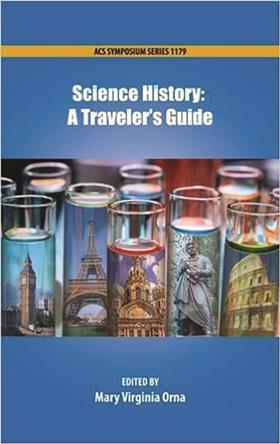 Let's start with a clarification: though the title might have been chosen to attract a broad readership, in reality this book is mainly about sites of chemical interest – Chemistry World readers will see no harm in that, of course. We are taken on a (selective) world tour of wall plaques, statues, chemical museums, a few mines and factories, and residencies associated with some of the most famous chemists of yesteryear.
Mary Virginia Orna has exerted a light editorial touch on her distinguished contributors, each writing about their allocated locations with their own idiosyncracies. Peter Morris gives us a series of walking tours, with the kind of detail, such as opening times, that a tourist expects. It is useful to know in advance that if you go to Westminster Abbey to view the tombs and memorials of Isaac Newton, Charles Darwin and Humphry Davy it will cost you an eye-watering £18. To my mind the London Transport Museum, which Morris mentions, is much better value, even though any chemical connection will be hard to discern. The Royal Institution gets a chapter to itself, as does the Auer von Welsbach Museum in Althofen, Austria.
Robert Anderson, former director of the British Museum, takes us round Scotland, mainly Edinburgh and Glasgow, but without the step-by-step approach favoured by Morris. He includes far-flung industrial sites, but he advises a car is necessary to see all these sites.
Orna has presumably chosen contributors to write about locations with which she is familiar. Thus we tour Paris, Rome, Florence and Copenhagen, but not Berlin. Germany and Austria are included, but the concentration is on the south, with its dispersions of salt mines and therapeutic baths. The book is Euro-centric: the whole of China gets just three pages; Peru, again, just three pages. Israel, with its Dead Sea Scrolls, gets a chapter to itself, more detailed than the earlier ones. We even get a listing of the various techniques used to study inks and parchment fragments.
I enjoyed this book because, though I might have claimed to have been familiar with the chemical heritage in the UK, there is clearly a lot that I've missed. I'll take Orna's book with me when I have time to re-explore London, Oxford, Cambridge, St Andrews and all the rest. Is it good value? At £97 for the hardback, that's questionable. But the paperback version is more attractive at its published price of £32.99. At this price, I certainly recommend it.