David Abraham
Yale University Press
2016 | 288pp | £20
ISBN 9780300196795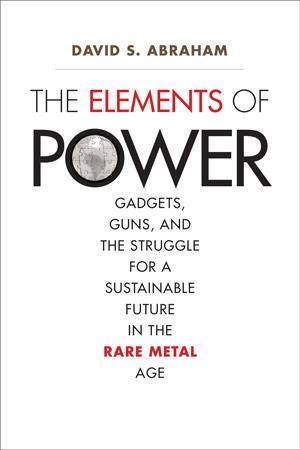 If his sense of humour hasn't yet abandoned him, Tantalus might find our ironic relationship with his eponymous rare earth metal amusing. Tantalum-based electronics can be, to us, what the underworld's unreachable fruit and evasive drinking water are to our Greek mythological antihero. Like most other rare metals, tantalum is fairly abundant in Earth's crust, but generally not in quantities profitable to mine. Even when it is extracted and processed, its supply immediately dwindles with political turmoil or slight increases in demand.
The mythological comparison may seem far-fetched to those uninitiated in rare metals, but David Abraham's The elements of power paints a global portrait with paradigm-shifting flair. It's a tale of shock and ore, though Abraham is the first to admit this is not a chemistry book. Instead, it succeeds in welcoming readers of any background to the otherwise impenetrable conversation about rare metal geopolitics. Only a basic understanding of modern politics is needed to reap all the book has to offer, and the basic chemistry required to understand the issue is explained clearly and concisely.
The fast-paced chapters divide an overview of rare metals' unique qualities into topics ranging from military technology and renewable energy, to smuggling and clandestine trading practices. Each narrative is driven forward by a geopolitical problem and the rare metals that emerge as reluctant protagonists. This is a refreshing format, and one that clearly requires significant research on the author's part.
I would have loved to learn a little more about how rare metals are prospected in the first place – a factor not touched upon in the book. However, it is clear that Abraham's background as a natural resource strategist, with a wealth of contacts in the rare metal community, has been invaluable in providing the book's many perspectives on rare metal supply lines.
We all know about significant changes in the prices and amounts of particular resources. Changes in the cost of crude oil, for instance, often seem to warrant news coverage in their own right and are mirrored in diesel and petrol prices. Abraham's book gently points out just how incredible the Western world's obliviousness of rare metal supply and demand therefore is. After all, what do electric vehicles, your mobile phone, Israel's Iron Dome, wind farms, solar cells and modern steel have in common?
In exploring questions like this, Abraham surpasses his ambitious goal of penning a rallying call to future rare metal scientists and metallurgists. The undeniable issues and opportunities for rare metals could scarcely be relayed more engagingly. I would encourage anyone with so much as a casual interest in global politics, markets or technologies to unearth this rare resource for themselves.
Listen to our book club podcast for an interview with author David Abraham and our thoughts on The elements of power