To mark the International Year of the Periodic Table (IYPT), the Royal Society of Chemistry led and supported community activities, educational initiatives and celebratory events globally in 2019
By focusing on the 150th anniversary of Dmitri Mendeleev's formation of an iconic image of chemistry – and an enduring, vital tool to all who learn and work in science – we united our profession, members and our communities through hundreds of exciting and diverse IYPT activities. From public lectures and outreach events to teacher resources and grants for member networks, themed journals and books, the RSC worked to inspire people of all ages, experience and backgrounds to engage with the periodic table of elements.
Chemical facade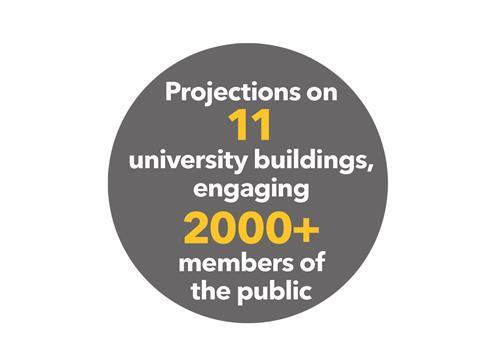 To mark November's Chemistry Week, the RSC projected periodic table-themed imagery onto university facades in the UK and Ireland.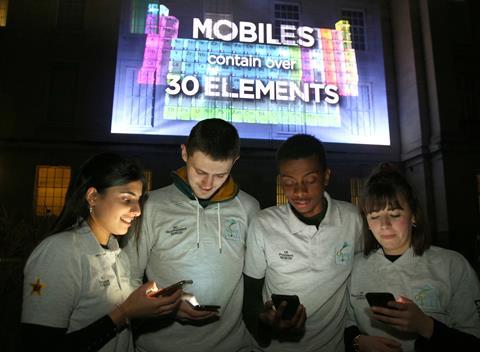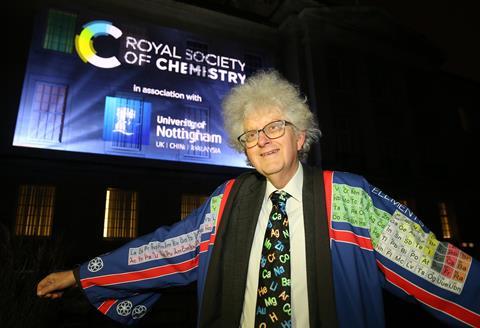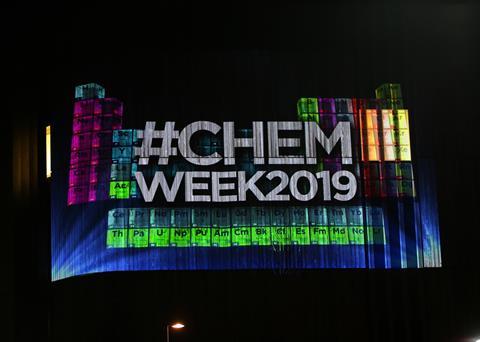 1001 inventions
The RSC sponsored a four-day exhibition 1001 Inventions: Journeys from Alchemy to Chemistry.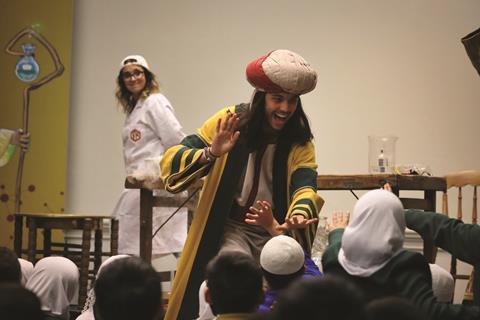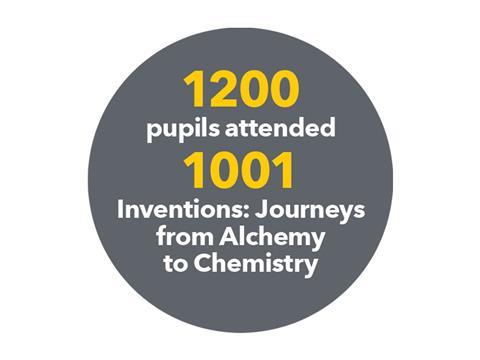 Held at Burlington House in December 2019, its overarching objective was to spark children's interest in science. The event's live shows and activities were also designed to inspire passion for creativity and learning while promoting diversity and intercultural appreciation.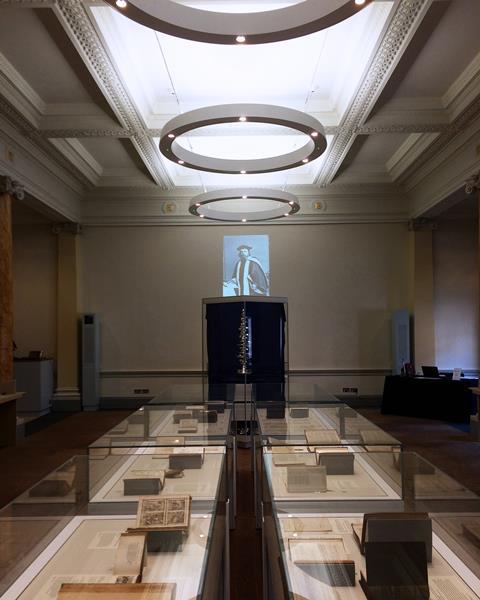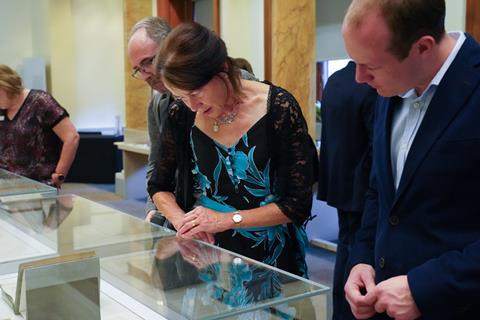 Telling the tale of the periodic table
An exhibition featuring rare artefacts on loan from the University of Cambridge's St Catharine's College and Scotland's University of St Andrews was held at the RSC's Burlington House in London during August.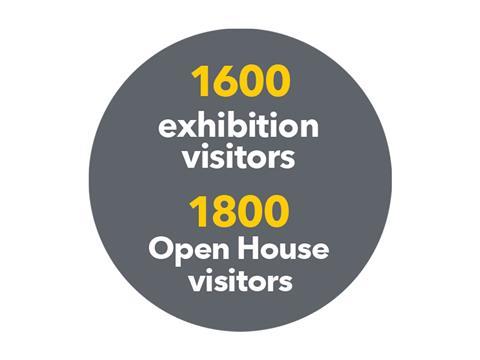 The Story of the Periodic Table exhibition contrasted modern and old exhibits, including a unique classroom periodic table printed in the late 19th century and the EuChemS periodic table. The RSC's annual Open House, held at Burlington House the following month, was themed around the IYPT to mark the significance of the periodic table.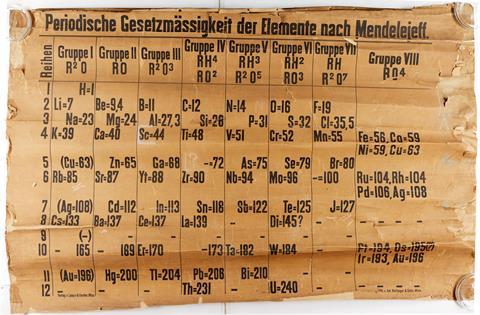 Scarce elements and sustainability
The BBC covered the RSC campaign about the importance of preserving scarce elements in electrical devices – with our story rated the third most-read on the BBC website on launch day.
The BBC's Jeremy Vine and its Today Programme, Radio 1 and BBC Breakfast teams backed the campaign, along with a number of specialist sustainability and science media outlets.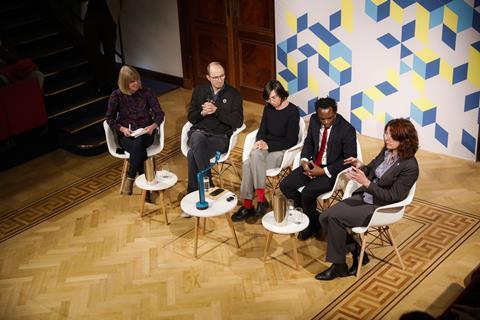 As part of the campaign, the RSC hosted a panel discussion exploring precious elements in electronic devices in collaboration with the Royal Institution in London.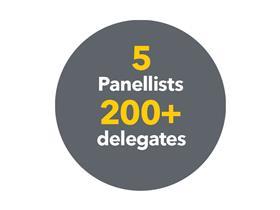 Panellists – including University College London professor and Chemistry World columnist Andrea Sella, University of Northampton professor Margaret Bates, Manchester Metropolitan University lecturer Tim Gabriel, Janet Gunter from The Restart Project and BBC science correspondent Victoria Gill – discussed the design, development and disposal strategies for a sustainable future.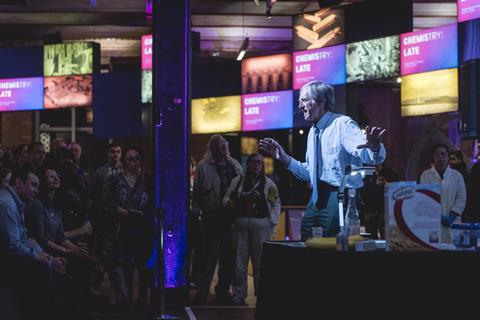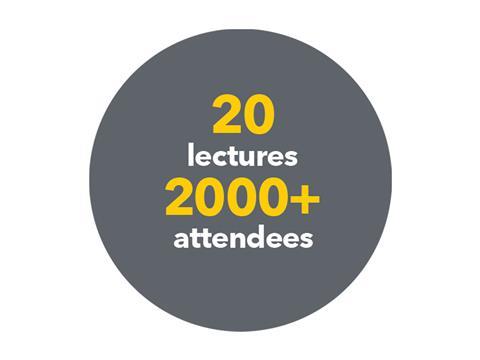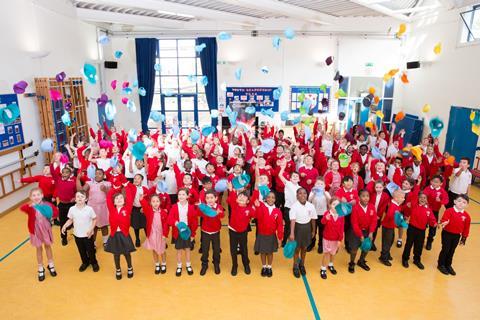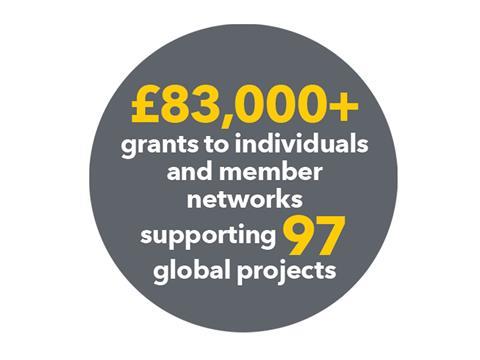 We are an international organisation connecting chemical scientists with each other, with other scientists, and with society as a whole. Founded in 1841, we have an international membership of over 50,000. We use the surplus from our global publishing and knowledge business to give thousands of chemical scientists the support and resources required to make vital advances in chemical knowledge. We develop, recognise and celebrate professional capabilities, and we bring people together to spark new ideas and new partnerships. We support teachers to inspire future generations of scientists, and we speak up to influence the people making decisions that affect us all. We are a catalyst for the chemistry that enriches our world.