The Royal Society of Chemistry's archive of remuneration reports shed light on pay and benefits in the chemical sciences
How has chemists' pay and job satisfaction changed in the last two years? How about over the last century? Royal Society of Chemistry members can now explore these questions, and so much more, in our newly-released archive of Pay and Reward surveys going back 100 years.
Every two years, we ask RSC members to share their experiences of salary, pension and benefits in their field of the chemical sciences. Using the data we publish an authoritative employment and job satisfaction report to help you proactively manage your careers. We also use the report data to support our services and inform our wider policy and advocacy work.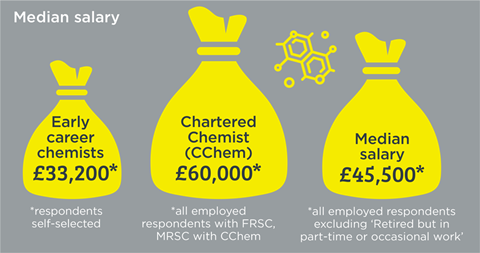 The 2019 Pay and Reward survey found a median salary of £45,500*. Early career chemists can expect to earn a median salary of £33,200 and Chartered Chemists £60,000**. The gender pay gap has decreased by 4%; however, women still only earn 78% of the salary of men with a median salary of £38,400 for women and £49,000 for men.

The biggest median salary increase was seen in Pharmaceuticals (£58,900, compared with £52,000 in 2017) and in Coatings, Paints and Inks (£52,000, compared with £41,000 in 2017). Respondents identified leadership, communication and networking as the skills they most need to progress their careers and 27% felt that lack of opportunity to gain experience in the workplace was a barrier to skills development. 52% said being passionate about their work was a key motivator and 79% said that they feel able to be themselves at work.

The report also looks at the impact of professional awards and career breaks on salary and career progression, how the community feels about job security, skills needs and usage and how workplace experiences differ by gender. Employers can use the report to benchmark employee benefit packages, understand what motivates today's chemical scientists and what they are expect from future employers.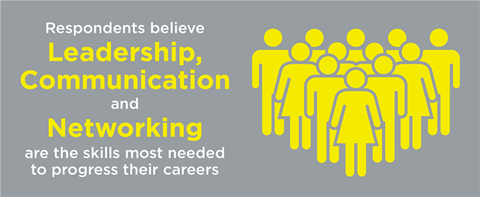 As part of these centenary celebrations we are making the last 100 years' worth of Pay and Reward reports available digitally to Royal Society of Chemistry members for the first time. Members can access the Pay and Reward reports for free. If you are not a member you can join our membership today or to purchase this report for £250 email careers@rsc.org.
Visit the members' area now
Additional information
* Median salary includes all employed respondents excluding those who are retired but in part-time or occasional work.
** (based on all MRSC and FRSC with CChem)

We are an international organisation connecting chemical scientists with each other, with other scientists, and with society as a whole. Founded in 1841, we have an international membership of over 50,000. We use the surplus from our global publishing and knowledge business to give thousands of chemical scientists the support and resources required to make vital advances in chemical knowledge. We develop, recognise and celebrate professional capabilities, and we bring people together to spark new ideas and new partnerships. We support teachers to inspire future generations of scientists, and we speak up to influence the people making decisions that affect us all. We are a catalyst for the chemistry that enriches our world.
View full profile