Sourcing new, effective and efficient lab equipment is essential to smooth-running and cost-effective modern labs – but the time allocated to this can be considered non-productive. It doesn't have to be
Join the Royal Society of Chemistry (RSC) at Lab Innovations – the UK's only trade show with conference sessions dedicated entirely to the lab industry. The event, which takes place in Birmingham, UK, on 30 and 31 October 2019, is designed to simplify the sourcing and procurement processes for labs.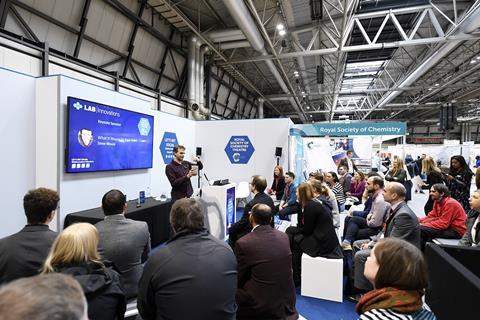 The winner of Best Trade Show at the 2019 Exhibition News awards, Lab Innovations returns to the city's NEC venue with the continued support of the RSC and many of the UK's leading scientific institutions. A free-to-attend event, Lab Innovations is all about lab equipment and services, with almost 80% of its 3000-plus visitors involved in the purchasing of products and services.
This year's event is 10% bigger with over 160 lab suppliers and manufacturers, hundreds of cutting-edge products to discover, opportunities to learn and earn CPD points plus extensive networking opportunities. Last year's attendance figures saw a 43% increase in lab managers, a 53% increase in lab technicians and an increase in procurement managers of 125% compared to 2017. With these visitors in mind, event organisers this year launched Lab Connect – an online business matchmaking tool so that one-to-one meetings with the right people can be planned and scheduled – ensuring delegates' time out from their labs is spent as effectively as possible.
The Lab Innovations line-up
The lab industry is constantly evolving technologies, regulations and ways of working. Future-proofing the laboratory is therefore key; minimising waste (time included) and increasing sustainability, as well as digitisation, are all high on the agenda of this year's show. These themes are reflected in Lab Innovations' key areas, including the RSC and Insights & Innovation theatres, Live Lab, Cleanroom Hub and Sustainable Laboratory zone, as well as the many exhibitors. Lab Innovations also offers numerous CPD-accredited educational opportunities, with up to 35 hours of seminars and workshops enabling visitors to gain new skills and knowledge.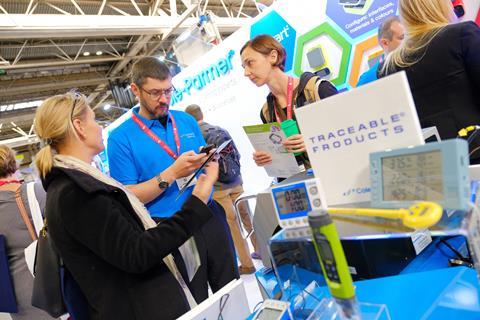 Four seminar theatres will host back-to-back talks from expert speakers. In the RSC theatre, the society's celebration of the International Year of the Periodic Table (IYPT) continues with presentations on this fundamental topic. The IYPT marks the 150th anniversary of the publication of Dmitri Mendeleev's periodic table – an iconic image and vital tool to all who study and work in science, at all stages of their learning and careers.
Speakers will focus on elements of the periodic table and visitors can learn about recycling strategies and discover sustainable alternatives to elements commonly used in the lab. Chemist, teacher and presenter Andrea Sella and physicist, presenter and stand-up comedian Helen Arney are the keynote speakers. Well known to Chemistry World readers, Sella's research focuses on materials, synthetic inorganic chemistry and the history of chemistry. He will demonstrate why scientists should stop using mercury in lab equipment and present the alternatives. Arney is renowned for her witty songs and explaining physics while riding a rollercoaster or singing about the periodic table, and her unique science-infused comedy has featured on TV, radio and in theatres worldwide.
With two days of talks and presentations focused on the IYPT, speakers in the RSC theatre will explore the weird and wonderful world of the periodic table, as well as the elements and our future world. Its presentations include Kit Chapman's globe-trotting adventure How to Create an Element, which recounts the astonishing breakthroughs that have pushed our knowledge of science beyond the elements found on Earth. From building the atomic bomb to the current race to create element 119, meet the heroes and villains and learn about the history of element synthesis while you marvel at the cutting-edge research that could break the periodic table forever.
'Creating an element is no easy feat,' says Chapman. 'It's the equivalent of firing six trillion bullets a second at a needle in a haystack, hoping the bullet and needle somehow fuse together, then catching it in less than a thousandth of a second, after which it's gone forever. Welcome to the world of the superheavy elements, a realm that is rewriting our understanding of chemistry and physics.'
Re-use, recycling and rare earths
Jason Love – a professor of molecular inorganic chemistry at the University of Edinburgh – will discuss the need to recover and recycle elements in his talk Mining the Scrapheap. Love sees the circular economy becoming increasingly important. 'To adopt a circular economy and the environmental and societal benefits it brings, we need to have the ability to recycle end-of-use products. These include electronic devices such as smartphones that contain metals seen as critical resources, but which are not being recycled to their full extent at the moment,' he says.
Love's talk covers the chemistry that underpins gold and rare earth element recycling being, which is being studied by his group. This scientific challenge combines the use of experimental, spectroscopic and computational chemistry to understand, improve and redesign separation processes that recover valuable metals from the urban mine.
Continuing the sustainability and recycling theme, Sellafield's technical manager Sarah Wilson will present a brief overview of 70 years of nuclear reprocessing while considering future reprocessing challenges and how waste can be reused. In addition to this, a range of expert speakers will share insight on recycling lithium-ion batteries, rare earth metals and magnets. The full programme is available here.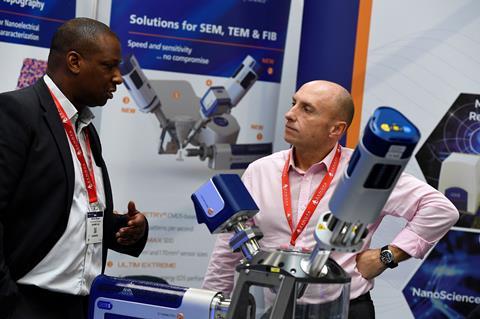 Creating sustainable labs
Green Light Laboratories' director Andy Evans will be on hand to show visitors around the event's Sustainable Laboratory. Delegates will see how even small improvements in technology, procurement and best practice reduce running costs and make funds go further. Evans will show how his company helped one university reduce its lab's carbon emissions – which had accounted for 70% of the institution's entire carbon footprint.
'Sustainability is the future for how we select, buy and use our lab equipment,' says Evans. 'We're excited to showcase how sustainability is saving labs thousands of pounds and safeguarding UK science. I will be highlighting the latest innovations in lab products and demonstrating how lab practice and procurement can become more sustainable.'
Evans will showcase the green equipment and processes used to achieve sustainable results with case studies and audits on leading UK universities, including those in Oxford, Bristol and Edinburgh. Suppliers including Scientific Laboratory Supplies (SLS), Julabo, Shimadzu, PerkinElmer, Analytix, IKA and Cole-Parmer will also showcase equipment from their ranges.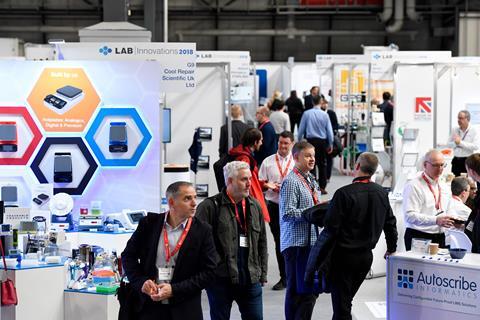 Further insight into green procurement and improved lab sustainability and efficiency through green initiatives will be explored in the Live Lab. The Leaf (or laboratory efficiency assessment framework) for example, is a new tool developed by a University College London-led consortium to help quantify savings and benchmark comparable results within the lab.
Supporting lab future-proofing
Activity in the PerkinElmer-sponsored Insights & Innovation theatre is being curated by Laboratory News magazine. Industry professionals will explore the use of AI, virtual reality, sustainable equipment and how to support technical staff – of whom there is a national shortage. Exhibitors will give delegates a first look at new products in the adjacent Lab News Village. Additionally, the SLS Pavilion – hosted by laboratory equipment supplier SLS – will showcase the chemicals and consumables of 20 of its partner companies in a theatre almost a third bigger than in 2018.
'One of the best things about Lab Innovations is finding out from exhibitors about products that exist that I didn't know existed, but which could be very useful to our work,' says Sarah Almond, a senior forensic science technician at the University of the West of England. 'It's great to be able to keep track of what's going on in the market and to see both big and small lab-focused companies all in the same place along with their very latest innovations,' she adds.
'Besides networking, Lab Innovations 2018 gave me the opportunity to keep up-to-date as the entire market is represented at the event,' adds Phil Ellis, services manager at Aberystwyth Innovation and Enterprise Campus.
So, if you're looking to source new and sustainable lab equipment and find out how to increase lab efficiency all in one place, look no further.
Lab Innovations: 30 – 31 October 2019 at the NEC, Birmingham. Register for free today at www.lab-innovations.com

Lab Innovations is the UK's largest annual trade exhibition dedicated to the entire laboratory industry, uniting +3,000 laboratory decision makers with +160 laboratory suppliers and manufacturers across all sectors.
View full profile