Reading Scientific Services Ltd (RSSL) is a cutting-edge contract research organisation based in Berkshire, UK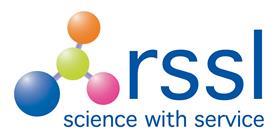 RSSL is a multi-faceted and diverse business providing outsourced services to both the food and pharmaceutical industries primarily through analytical chemistry, laboratory research and consultancy. Our work helps bring innovative new products to market and keeps patients and consumers safe.
Whether we are creating new products, validating medicines or solving investigations, we take pride in being a leader in our field, serving clients from across 60 countries.
Enriched by our parent company Mondelēz International (one of the world's biggest snacking companies), our diverse team includes 23 nationalities from 300 members, creating a family feel as we strive towards our mission to improve the pharmaceutical and food industries through our science.
Graduate scheme
We offer direct entry graduate roles, giving you a tangible job where your achievements will directly improve patient and consumer lives from day one, and allowing you to gain practical experience that'll develop a specialism.
What we look for
Self-driven and motivated aspiring scientists with a passion for the pharmaceutical or food industries who can work with a level of autonomy, as well as within a team.
Training and development
We believe in a 70:20:10 approach to training – 70% through real experience, 20% through coaching and support and 10% through direct training. The 70% comes through delivering your role. You'll be given real responsibility within business projects that deliver critical results to drive our business forward and meet customers' needs.
Through our parent company's university, you'll have access to a wealth of training courses – a combination of face to face, virtual instructor led and e-learning materials, ranging from technical training on materials and processes to behavioural, leadership and cultural training. Other special development offerings include interview workshops, opportunities to present your work to a senior audience and the internship challenge – a nine-month team based project designed to empower interns to make a lasting difference to RSSL.
Typical starting salaries
Competitive
Desired degree disciplines/experience
2:1 or above (or equivalent) in any of the following (or related) degree titles: analytical chemistry, biochemistry, biology, chemistry, chemical engineering, food science, food technology, forensics, material sciences, microbiology, molecular biology, nutrition, pharmaceutical science, physical sciences and physics.
If you narrowly missed those requirements due extenuating circumstances you'd like us to consider, let us know at: earlycareersenquiries@mdlz.com stating 'RSSL' as the subject and attach a letter from your school/university to confirm your extenuating circumstances.
Why work for us
Help enhance lives
By joining the RSSL family you will help us play a pivotal role in the pharmaceutical and food industries. Whether helping clients get vital drugs and treatments to patients, tackling industry issues like contamination or bringing a new product to market, we use our multidisciplinary scientific expertise to enhance lives.
Grow and develop
Being part of RSSL means benefiting from career development opportunities and our company's strong belief in 'growing our own people'. Our scientists are encouraged to learn and progress at every stage of their career. Working in multidisciplinary teams broadens experience and secondments enable individuals to master the skills and competencies needed for promotion. In addition, links to our parent company Mondelēz International, opens up a global network of mentors and provides access to a valuable online university of technical and soft skills.
Be part of a diverse team
In a family of 300 people, we boast 23 different nationalities and 65% of our employees are women. We're huge believers in strength through diversity and pride ourselves on creating an inclusive workplace. No matter who you are, we believe you should be able to bring your true self to work.
Enjoy a wonderful workspace
Regardless of whether you work in our established Reading Science Centre or our new Wokingham site, you'll use cutting-edge laboratory equipment while benefitting from onsite parking and kitchen facilities. The Wokingham site has a recently refurbished, purpose-designed laboratory space and the Reading site is surrounded by the beautiful parkland of the University of Reading campus with its botanical garden – The Harris Garden – a minute's walk away and freely accessible.
Make an impact
We believe that wellbeing is holistic and inseparable from the health of individuals, communities and the planet. As a company, we are committed to making a positive impact and place our focus on sustainability, wellbeing, community and safety – four pillars for a positive today and tomorrow.
Locations
Reading and Wokingham
How to apply
RSSL is always on the lookout for graduates to join the team. Visit rssl.com/home/careers to find out more about our current vacancies.
Open applications and closing date
We don't have a set opening and closing date for applicants at RSSL however, our intern scheme opens in September 2020 and closes in November 2020.
Contact
The Reading Science Centre
Whiteknight's Campus
Pepper Lane
Reading
Berkshire
RG6 6LA
+44 (0)118 918 4076

Reading Scientific Services Ltd (RSSL) has been providing industry leading scientific and technical solutions for over 30 years to the global food (FMCG), pharmaceutical, healthcare and biopharmaceutical sectors.
View full profile