Emma Davies learns how the Brazilian government has helped over 100,000 science students study abroad in the past five years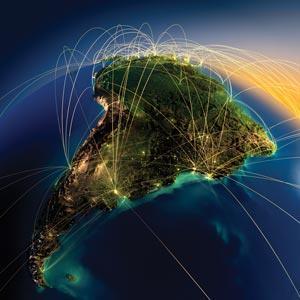 When Eduardo Melo arrived at the University of York, UK, from his native Brazil in 2012, he had little idea how the trip would change his life. An undergraduate at the Federal University of Santa Catarina, a programme called Ciência sem Fronteiras – Science without Borders (SwB) – had given him the chance to study abroad.
'I had never travelled to the UK before,' he recalls. Melo opted to study green chemistry and was soon hooked on the subject, valuing York's 'cutting-edge research' and the opportunity to work with James Clark, who heads the university's Green Chemistry Centre of Excellence.
Melo's enthusiasm meant that he was able to fit in a masters in green chemistry while working on his undergraduate degree. On returning to Brazil for graduation, he successfully applied for full SwB funding for a green chemistry PhD in York, which he began in October 2015. He now hopes to return home following his PhD to work as a researcher.
Study aid
Melo is just one of the 100,000 students who have received a scholarship to study abroad under the SwB programme, set up by the Brazilian government in 2011 with a goal to improve the nation's global academic standing. It involves sending Brazilian students to over 30 countries to gain experience in highly competitive academic environments, before returning home to share their skills. To receive funding, Brazilian students and researchers need to prove their academic status and language capability, as well as sign a contract agreeing to return to Brazil. In exchange, the Brazilian government pays the student's full tuition fees and offers money towards personal expenses, health insurance and flights. PhD students and postdocs on the scheme have even been able to bring along spouses and up to two children. The programme also aims to attract top scientists to Brazil.
Of the scholarships awarded so far, around 5% have been for students studying chemistry, mathematics or physics. The most popular destinations for SwB scholars are the US and the UK, which has seen 11,000 scholarships granted, including 583 PhD students and 762 postdocs. The numbers are a significant improvement on pre-SwB numbers, although still relatively small compared with those travelling from countries such as China and India, says Tania Lima, assistant director, programmes and operations at UK HE International Unit in London, which manages the UK side of SwB.
Although most countries have some sort of international scholarship programme, SwB is one of the largest of its kind, says Lima. The programme is run and managed by two Brazilian higher education agencies: the National Council for Technological and Scientific Development (CNPq) and the Coordination for the Improvement of Higher Education Personnel (Capes). The agencies are currently attempting to measure SwB's impact – which is no mean feat. 'In Brazil there are more than 110 participating universities. Just coordinating this network is not simple and always a challenge,' says Lima.
Making an impact
To help assess SwB's impact, the UK HE International Unit has compiled a report detailing the experiences of Brazilian students in the UK. Their research shows that undergraduate SwB students often choose to return to the UK for postgraduate studies. The programme has also 'opened doors for long-term partnerships between UK universities and Brazilian universities', says Lima. 'We have seen staff exchange, partnership agreements, memoranda of understanding, and joint proposals for funding,' she adds. In addition, the report highlights the industrial placements available to students while in the UK, including at GlaxoSmithKline, Proctor & Gamble and Unilever.
[[I feel like I have the chance to give back something to the UK and to my country as well]]Meanwhile, the British Embassy in Brazil has set up the SwB UK alumni network, coordinated by Cintia Gonçalves and assistant Amanda Tavares. SwB UK alumni runs career days and meetings for students on their return to Brazil. It recently launched a contest for postgraduates, the winner of which will have a five-day trip to their former UK university and the opportunity to showcase their research. It also runs a contest each year to find an SwB ambassador; the 2016 ambassador will get an all-expenses paid trip to technological centres and research institutions in the UK.
Tavares is a SwB alumna, having studied journalism at the University of Roehampton. 'While I was in London, I also volunteered at [a charity called] London Football Journeys. Now, working as an alumni officer, I feel like I have the chance to give back something to the UK and to my country as well,' she says.
Sadly, it is unclear whether the programme will continue in its current form. Brazil's current economic crisis has led to significant cuts to the SwB programme and a freeze on new undergraduate placements, although postgraduate funding will continue. This is perhaps no surprise; the generous package offered by the scheme has cost the Brazilian government about $3 billion (£2.1 billion) to date.
Despite the cost for Tavares there is no question of the impact it has had on her life, and how she hopes it will improve international relations. 'It's been quite rewarding to hear so many stories of people who have enjoyed their time in the UK as much as I did, and who are also concerned about transforming it into some kind of legacy to both countries.'
Emma Davies is a science writer based in Bishop's Stortford, UK