'I had a shift a few months ago where I had calls from everywhere in the world except Antarctica. From beaching ships in Asia, to exploding clouds of peroxide in Scandinavia, to a puppy that had eaten rodenticide, it was very varied.' Larissa Silver reflects on her job, laughing a little with colleague Tom Baker as she recalls the last incident. 'The puppy was fine.'
'Yes,' Baker grins. 'The only thing I remember about that day with certainty is that the puppy was fine.'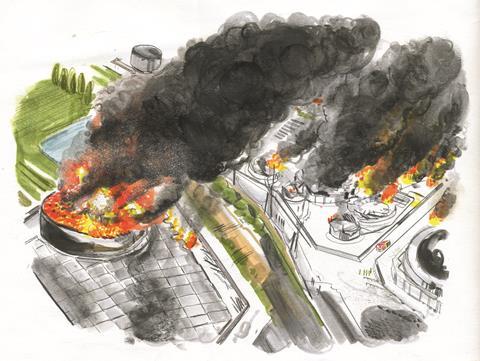 The two chemists are both supervisors at the National Chemical Emergency Centre (NCEC), a 24-hour emergency number that serves the UK emergency services, as well as 500 private companies – and members of the public using their products – worldwide.
The centre, based just outside Didcot, UK, gets 4000 calls a year, of which 400 are from frontline fire officers. Almost every day, they respond to at least one call about a chemical spill, one call about a chemical fire, and two calls for first aid advice.
A missed call is not an option, so all the centre's systems have multiple contingencies. The phone banks are not reliant on the standard phone network. Backup generators are on standby to prevent power cuts. Cloud-based systems mean information is always accessible. The team never knows when the phone will ring – or what will be happening on the other end of the line.
'We've had fires and major incidents that make national and international news,' says Baker. 'If you pick a disaster, one of our clients has chemicals there … in the 2015 Tianjin explosion, our clients had products stored in those areas that were affected. We even had a call a few years ago related to a pair of surface-to-air missiles that had fallen off a lorry into a verge. I can't tell you too much about it, but we do have some alarming scenarios.'
The chemistry you're familiar with is different in an emergency. If you try and neutralise 20,000 litres of acid you'll get localised boiling, fumes, and it'll spray on you
Many of those scenarios – like the Buncefield oil fire – are instantly recognisable. Others are just as dramatic, such as the tanker full of liquid nitrogen that was left stranded by a broken delivery manifold, its contents slowly coming to the boil. These are mixed with very human tales of cleaners claiming they have found a meth lab; farmers asking if wallabies are likely to die after being coated in herbicide; and police officers confronting a child trying to make gunpowder.
'The fire services ring us about anything, literally,' says Baker. 'We had a call because someone had stolen a 19th century safe and left the liner in a public park. The material was scattered and the fire service wanted to know if it could be a public health risk. We suddenly had to read up on Victorian safe construction.' It turned out the safe's lining contained asbestos. 'If you understand the chemistry, you can deal with stuff like that.'
Tragic beginnings
The NCEC was created in 1973 as a response to that very need: for such understanding to be available to emergency services, explains practice director Jon Gibbard. 'There was an accident on a motorway in the north of England. Two tankers collided. It was a misty day, and a nurse who was behind the traffic [got out of her car and] went through a cloud of sulfuric acid she didn't see because of the mist. She died going to help one of the drivers. This came off the back of numerous incidents of fire-fighters in London breathing in fumes. The government said enough was enough.'
In the 1980s the NCEC branched out and began offering safety data sheets and transport documents, and built its own database, also used by the fire service, with which to answer queries. As demand from the private sector grew, the centre began to take calls from all over the world.
This often results in cooperation with other organisations, from the National Poisons Information Service to the Environment Agency and the Ministry of Defence's bomb squad, to organisations outside the UK. 'When there was a leak of methyl mercaptan from a French factory – the papers called it "Le pong" – we were liaising with the French chemical emergency centre to get an idea of the release, the size of it and its trajectory,' Gibbard recalls. The team had to advise local fire services how the smell could mask gas releases, and what precautions to take.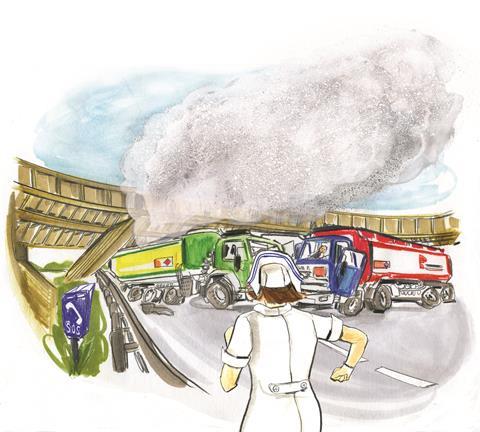 Calls are often in other languages, Gibbard says. 'All the response happens from the UK, but we use live translation, local numbers and partners. We have a series of linguists available 24 hours, we have backups. There are a huge variety of languages we can take calls in – 40 we know we can get quickly, and others on request.'
'When a call comes on the line you have no idea who is calling you and what language they are speaking,' Baker explains. 'We can bring an interpreter online, but they may not be chemically trained, so you can be interrogating and relaying advice through someone who doesn't necessarily have technical ability. You have to phrase it in a way that the interpreter can use accurately … you can't use words like "exotherm" and "deliquescence". You may not even have the Latin alphabet. The caller may not understand the label. So that can be a challenge. You have to go through all kinds of clues – is it a green gas, is it a red liquid?'
Throughout, the NCEC focuses on providing proportional advice. 'One of the big challenges we have is matching a caller's capability to the ideal response,' Baker says. 'The caller may have access to some personal protective equipment, but this can range from glasses and kitchen gloves through to specialist suits and even robots with fire fighting capability.'
'We also have to understand the demands of a caller's situation,' Baker continues. 'If there is a large chlorine leak and we are going to advise the fire service to commit a crew and seal a breach, we'd advise gas-tight suits and thermal overgloves, as liquid chlorine is cryogenic. But if it's a swimming pool leak, where the airborne concentration is much lower, you don't need the gas-tight suits – breathing apparatus and normal fire kit is appropriate.'
Sometimes the answer is not to do anything. Baker and Silver play a recording of a real call – a warehouse fire – where a substance has leaked into the river. A calm voice advises the fire service to let the fire burn itself out (the gas is not hazardous), and not to use foam to tackle the blaze. Foam, they explain, would make the substance miscible in water and thus virtually impossible to remove from the nearby river. Without it, the Environment Agency can deploy floating dams and skim the chemical off the surface.
It's this advice that makes the NCEC indispensable, Gibbard says. 'We have a return on investment [of government funding] of 15 or 16 to one. Above four to one is considered good … we can make cost savings by advising [the fire service] to commit fewer engines and open roads quicker, closing motorways for an hour rather than five hours.'
The emergency line is only part of the NCEC's role, says Caroline Raine, the business area manager for chemical regulatory consultancy. She heads up a team responsible for consultancy in legislation and the training sessions the centre provides. Currently, that's around one session a week, usually with around 10-15 people. 'Our biggest focus is European legislation – Reach and CLP,' she explains. 'But we do a wide variety of other consultancy projects. We author safety data sheets, advice on chemical transport regulation and help with the registration of chemicals, right through to working with the European commission to ensure legislation ticks all the boxes and is fit for purpose.'
A particular set of skills
This work is also done by the emergency responders, Silver explains. 'Between calls, you'll be doing regulatory work or populating databases. But one of the best aspects is you never know what each day will be.' Typically, responders work on a cycle of four days on, four days off, with shift times becoming progressively later, from day to night.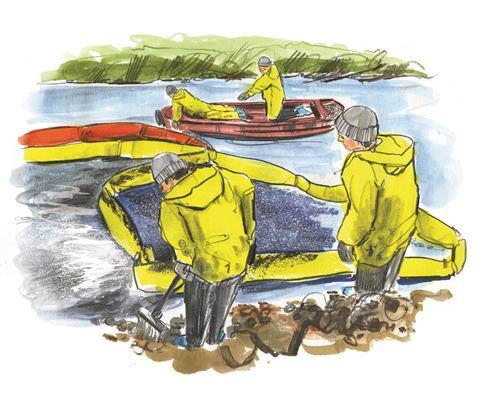 Regardless of how many calls come in, the job has unique pressures that require special skills, says Dan Haggarty, the head of emergency response. 'We rule a lot of people out through selection … it's not as easy as it sounds, so we very carefully induct them and train them to be world-leading experts in their field.'
This involves extensive training for four to six months, starting with technical chemistry training and learning how to think at a different scale than most chemists are familiar with. 'You're going from dealing with 5–10g of a chemical,' says Baker, 'where you can just sweep it up or combine it with another, to a lorry that's overturned with 20,000 litres of something in it. The chemistry and physical behaviour of chemicals you're familiar with is different. If you try and neutralise 20,000 litres of acid you'll get localised boiling, it'll fume, and it'll spray on you. We have to look at it differently.'
Being technically competent is only part of the role, Haggarty says. 'Responders need to be calm in a situation and have a high degree of empathy, and the ability to adjust their communication style. It's a skill. The final aspect is problem solving. Emergency responders need to assimilate information very quickly. They might be looking at a safety data sheet or a call handling sheet – how the customer wants the call to be handled – or dealing with a panicked caller who needs advice.'
This is achieved through supported telephone training, with roleplaying sessions and fake calls. Once competent, the new recruit answers calls under supervision, giving advice to real clients with Baker or Silver listening and making suggestions.
'Once they're good, we give them a sharp test,' Baker says. 'We put them in a small room and bombard them with calls. Because after that they could be on their own at night and we have to see if they're ready. We do it twice to be sure – because when it's 4am and the fire service rings because something serious has gone wrong, they have to get it right.'
'It's very intensive,' Silver agrees. 'It's hard work, but very rewarding. The first time you get a call when you're not being prompted is a nice feeling.'
Support is always on hand. Supervisors are on call, and between shifts the team can discuss particularly traumatic calls. The team also has access to specialist counselling services if they are needed.
But it's this unpredictability that Baker thrives on, and the reason he found a home at the NCEC. 'I really enjoyed the problem solving aspect in the lab, I liked coming up with ideas and seeing if it worked – not the hours of chromatography afterwards. This job gives me that. I have a random problem thrown at me, and I have to come up with a solution. It's my favourite bit of chemistry.'
On the spot: chlorosilane leak