Kelly Scientific Resources has its work cut out supplying scientists for Australia's expanding mining and environmental science sectors, learns James Mitchell Crow
'Scientists recruiting scientists' is the tagline of Kelly Scientific Resources (KSR) – an ethos that succinctly sums up the reasons why, 25 years ago, global recruitment giant Kelly decided to establish a specialised scientific recruitment arm. In the early days, KSR operated only in North America and in Europe. For the past 12 years, it has also operated in Australia.
'Within Kelly, there has always been a feeling of the need to be seen as a specialist within the niche market of scientific recruitment,' explains Paul O'Brien, director of KSR Australia. Their success in this market is at least in part down to the recruitment consultants that the company hires, he says. 'The majority are trained scientists themsleves. When we talk to clients we form a quick connection, because we understand what clients want.'
In five offices around the country, KSR Australia currently employs 18 recruiters – a number that is set to grow next year, in parallel with the expanding Australian scientific job market. The geoscience and environmental science spheres in particular are experiencing strong growth, says O'Brien, who has a background in engineering.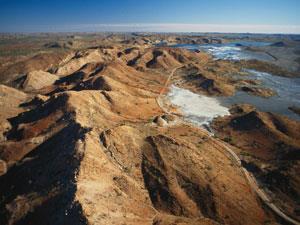 Costing the Earth
'There is an overwhelming demand for geoscientists at the moment – the challenge is finding the candidates,' he says. Australia is a resource-rich country, and is currently enjoying an economic boom in this sector, driven primarily by China's insatiable demand for iron ore and related raw materials as it pushes ahead with a rapid modernisation program. Geoscientists might be in particular demand from Australian mining giants such as BHP Biliton and Rio Tinto, but the mining boom is also increasing the opportunities for chemists, primarily in lab-based testing roles. 'We're seeing far more interest for chemists from the mining sector,' O'Brien says.
This new area of demand complements the validation, formulation and quality control chemist roles that have traditionally made up the bulk of chemistry-related positions that KSR works to fill. The other area of science job expansion within Australia is the growing number of positions for environmental scientists – a development that O'Brien attributes to the country's recent implementation of a carbon tax, which came into force on 1 July 2012. 'Scientists are beginning to be recruited into other parts of organisations, into planning roles to help businesses to prepare for the carbon tax,' he says. The carbon price will tax the country's 500 most polluting companies for the greenhouse gases they emit, and is one part of Australia's Clean Energy Future bill, a commitment to cut the country's emissions by 20% by 2020 and 80% by 2050. Australian businesses are increasingly seeking individuals with environmental science expertise to help them adapt to the tax and advise on future best practice.
One-way traffic
All this local demand means that international recruitment is growing – and as part of a global recruitment firm, KSR is well positioned to take advantage of the demand. 'Being part of an international network benefits us,' says O'Brien. 'Although a lot of the traffic is one-way at the moment: it is all to Australia!'
Large companies tend to be the ones with the internal structure and resources necessary to sponsor overseas candidates through the Australian immigration process, primarily to fill mid- to senior-level vacancies. Many of the overseas candidates KSR identifies and places come from the UK and Ireland.
Technology is certainly helping to facilitate international recruitment, says O'Brien – particularly the advent of video call technologies such as Skype, which allows them to meet applicants face-to-face, regardless of where in the world they are based. 'It's a great tool,' he says. 'We used to find that employers were reluctant to offer positions after a telephone interview. After a Skype interview, employers feel much more comfortable about making an offer.'
New technologies are also changing how the recruitment business identifies candidates in the first place. Although KSR still fills most positions by consulting its own database of scientists, and by advertising positions online, O'Brien is filling more positions by finding candidates through social media website LinkedIn. 'It gives us the ability to search for candidates locally and offshore,' says O'Brien. 'People with a LinkedIn profile definitely increase their recruitment chances.'