Emily Stevenson is one of two interns working alongside Green Party peer, Baroness Natalie Bennett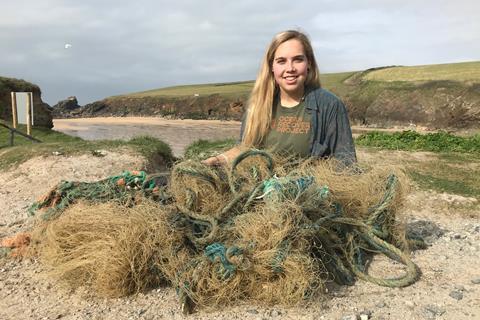 In September 2022, a new Parliamentary Internship Programme, funded by the British Society for Antimicrobial Chemotherapy (BSAC), offered a unique opportunity for two PhD students to work alongside Green Party peer, Baroness Natalie Bennett, to help make antimicrobial resistance (AMR) a more central part of political discourse.
In recent years, AMR and specifically the One Health agenda that aims to protect the interconnected health of humans, animals and the environment, has faded from the attention of the UK government and it is hoped that the internship will enable academics with expertise in this area to feed into policy decisions and to help hold the government to account.
One of the first cohort of interns is Emily Stevenson; a second-year PhD student investigating microplastics as vectors for AMR in aquatic systems.
Growing up by the sea in Cornwall, Stevenson has always had an interest in marine conservation, and, specifically, plastic pollution. Following an undergraduate degree in marine biology at Plymouth University, she set up the award-winning non-profit organisation Beach Guardian to empower communities to play their part in tackling plastic waste on beaches.
It was through this work that she heard about research being carried out in Scotland that had discovered potentially dangerous pathogens on the microplastics collected on local beaches.
'I thought, "Oh, my goodness, a) I'm putting my volunteers at risk, but also, b) what an opportunity,' Stevenson recalls. 'I needed to get people to care about the issue [of plastic pollution] – and if they don't care about the beach and they don't care about plastic, they care about their own health.'
She quickly made the decision to go back into academia, starting with a master's in conservation science and policy at the University of Exeter where she fiercely pursued a research project on bacteria in microplastics despite her lack of microbiology experience.
'My current supervisors, Aimee Murray, and Angus Buckling, believed in the project … and I absolutely fell in love with microbiology,' says Stevenson. 'We started to explore the role of microplastics in antimicrobial resistance. That's when we realised – there's something interesting happening here, I would like to move on to a PhD.'
Stevenson and her supervisors managed to get her PhD project funded with two more supervisors on board from Plymouth marine laboratory, Pennie Lindeque and Matthew Cole, with the aim of finding out if microplastics play a role in the evolution of AMR in microplastic-associated biofilms, and if there are associated ecological implications of microplastics, antimicrobials and AMR on the gut microbiota of marine organisms.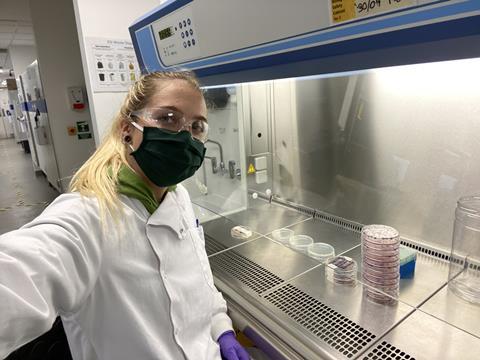 It was while she was looking for a potential internship placement to do during her PhD when the 'dream' opportunity to be a parliamentary intern popped up in her supervisor's inbox. Now she and her fellow intern, Julius Cesar Alejandre, are 10 months in to the 12-month post, spending 80% of their time on their PhD and 20% on the internship.
'When we first started the internship, Natalie was essentially like "I want you guys to look at the current policy landscape and see where AMR can come into that", particularly the One Health concept of AMR,' explains Stevenson. 'So that's what we did to start with; it was almost a scattergun approach of looking at everything and seeing how it could relate to antimicrobial resistance.'
During their time the interns have contributed to key outputs including two published articles on AMR, a short film for World Antibiotic Awareness week, the preparation of a comprehensive policy briefing document on eco-directed prescribing and the drafting of many parliamentary written questions on the topic of AMR.
'We asked what the government was doing to tackle the disproportionate threat of antimicrobial resistance to marginalised communities, such as refugees, prisoners and homeless people, and they suddenly said essentially nothing; having that evidence is so powerful, and it's starting a ripple effect,' says Stevenson.
Stevenson has also had the chance to interact extensively with Parliamentarians and has gained a unique insight into the government; something she has particularly valued, despite initial concerns.
'I was worried that I would feel overwhelmed, disappointed and kind of hopeless, because you hear that some things within government move quite slowly and that it's quite hard to make a difference. But actually I've seen the opposite; I know the power that voters can have on instigating change.'
However, she also feels that AMR is still not spoken about enough within government and there is a lot more work to do to raise awareness and public engagement: 'I don't see the urgency that is required.'
However, she also feels that AMR is still not spoken about enough within government and there is a lot more work to do to raise awareness and public engagement.
'I don't see the urgency that is required. There's a whole international panel of experts on climate change and the same dire predictions of death and destruction are made for antimicrobial resistance, but we don't have an international panel of experts and policymakers on antimicrobial resistance.'
Although Stevenson won't be leaving academia just yet to pursue a career in politics, the internship has changed her way of thinking.
'I want to continue my career in academia … but now with this internship, I will always be thinking about the policy implications at every stage of my work,' she explains.
'I think this is something that is essential for all academics to consider. Whether it's considering the applications of data when planning an experiment, or choosing a certain type of analysis that generates evidence useful for policy makers, we all have to be thinking with an interdisciplinary approach if we want to make our research impactful.'

Julia joined the Chemistry World team as Science correspondent in May 2023. She previously spent eight years leading the clinical and science content at The Pharmaceutical Journal, the official journal of the Royal Pharmaceutical Society, a membership body for pharmacists.
View full profile