Four scientists explain why they went to France as part of the Make Our Planet Great Again initiative
'Wherever we live, whoever we are, we all share the same responsibility: make our planet great again.' This was the response by the president of France, Emmanuel Macron, in response to Donald Trump's confirmation that he was withdrawing the US from the Paris climate accord in 2017. It was an obvious dig at his counterpart's 'Make America great again' slogan – and a tantalising insight into what was to follow.
Within days, Macron announced a new initiative – Make Our Planet Great Again – to entice non-French scientists and engineers to go to France 'to work together on concrete solutions for our planet'. The funding pot is split four ways: grants for master students, co-financing for PhD students, co-financing for postdocs, and a short-stay programme aimed at researchers at all levels of their academic careers.
The first call for short-stay proposals saw 73 researchers funded for visits between August and December 2018. '20% of the short-stay applications were selected,' says Campus France, the French government agency tasked with supporting international students and researchers into France.
In terms of demographics, 31 of the 2018 short-stay laureates were women, 42 men. PhD students made up 27 of the laureates, with the remaining 46 holding more senior academic posts. The programme may have been initiated in response to Trump's anti-science rhetoric, but applications are open to any non-French national researcher that hasn't recently resided in France. The US had the largest number of 2018 short-stay laureates (15), with Spain coming a close second (12). The home institutions for the remainder are scattered around the globe.
The short-stay programme funds a wide breadth of projects that fall broadly into one of three categories: climate change and sustainability, understanding earth systems and efforts to move towards 100% renewable energy. It pays for visits ranging from 14 days to five months, covering travel, medical insurance and providing a stipend for food and accommodation (the assumption is the researchers will continue to be paid a salary by their home institution).
Avoir l'air
'I was extremely excited and happy to be a part of this programme,' says Manabu Shiraiwa, a US-based atmospheric chemistry professor at the University of California, Irvine. He was funded to visit Bernard Aumont at the University of Paris-Est Créteil's laboratory of atmospheric systems. Both scientists have developed computer models to study the formation of secondary organic aerosols in the atmosphere, but had not collaborated before.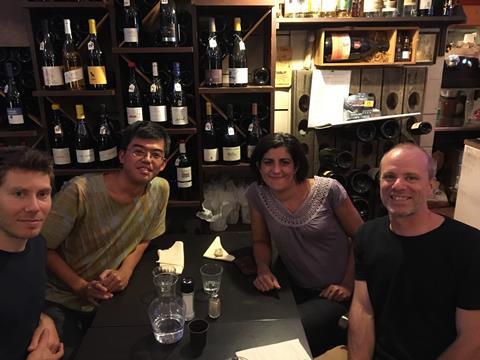 'I was always interested in that [Aumont's] model,' explains Shiraiwa. 'So when an ex-PhD student of his alerted me to the initiative at a meeting of US Department of Energy grantees in Washington, DC, I thought I should grab the opportunity.' Before applying, researchers must find a French host and obtain an invitation letter (with length of stay stipulated), after which a short research proposal must be put together. Shiraiwa emailed Aumont, receiving an immediate positive response. 'They had heard of, and were interested in, my model too.'
Shiraiwa spent a month exploring the possibility of combining the two models to enable a more holistic understanding of how organic molecules oxidise in the atmosphere. 'Aumont's model is a gas-phase chemistry model, while my model has strength in kinetic and particle-phase processes,' he explains. 'Secondary organic aerosol formation involves gas and particle phase processes. So, our models are complementary.'
'Without this programme I might never have had opportunity to run their model,' Shiraiwa says. Now back in Irvine, Shiraiwa continues working with Aumont's 'very fancy' model. A month is too short to finish a paper – but plenty of time to put down the foundations for a lasting collaboration.
Shiraiwa also toured some of the experimental atmospheric labs at the institute during his stay and gave a seminar on his model. This led to another potential collaboration. 'One scientist asked me to be on a research proposal with her,' he explains. He also took his European networking efforts further afield, visiting atmospheric chemists in Lausanne and at the Max Planck Institute for Chemistry in Mainz, Germany.
It wasn't just work and no play. 'Living in Paris was just great,' he explains, 'I visited the museums at the weekend.' His family also came to visit for a week. '[And] my colleagues organised a lunch for me with 20 different types of traditional French cheeses and ham brought from a farmer's market,' he adds.
Shiraiwa also appreciated the political message behind the Make Our Planet Great Again programme. 'There's lots of frustration being a US climate scientist with a president that keeps denying climate change,' he explains. 'The French government really support climate research; they want to make progress, to solve this problem. It felt really good to be part of that.'
Beyond the sea
'It felt like a natural thing to apply to come and work with here,' explains Adrian Burd, professor of marine sciences at the University of Georgia, US. He already had a long-standing collaboration with his host; Lionel Guidi at the Oceanological Observatory of Villefranche sur Mer. Burd had also visited the oceanographic laboratory on the French Riviera a number of times previously.
'We've known each other for around 15 years,' Burd says. 'We wanted to get a new project going, and so coming here and spending two weeks under the Make Our Planet Great Again programme to get that started and spun up seemed like a great idea.'
Burd is a computer modeller specialising in biogeochemical processes affecting the carbon cycle in the oceans. The scientists in the French lab are mainly experimentalists and field scientists who monitor physical, chemical and biological aspects of the ocean using satellites and sensors. 'They have a lot of expertise on the observational side and I have a lot of expertise on the theoretical and modelling side,' says Burd.
Their new collaboration combines biological pump models and collected organic particle profile data, 'to better understand the flux of carbon from the surface ocean to the deep ocean, and the chemical and biological and physical processes that affect that,' Burd explains. Oceans naturally act as a carbon sink, trapping carbon from the atmosphere and sequestering it on the ocean floor. In doing so, they play an important role in regulating atmospheric carbon dioxide levels.
'As a modeller, having immediate access not only just to the data but to the people who collect the data, so that you can go into the next office and ask exactly what is this and how does this work, has been immensely useful,' says Burd. He was also able to demonstrate recent additions to his biological pump model to the experimentalists.
'Building those collaborations is such a valuable thing. This is something well worth applying for as long as you pick your host institution well so that their expertise and yours mesh nicely together.'
Le grand battery
Access to cutting-edge equipment enticed Prabeer Barpanda, a material science professor at the Indian Institute of Science, Bangalore, India, to apply for the Making Our Planet Great Again programme. 'I took some of my samples and was able to do some extra-sophisticated analytical analysis there,' he explains.
Barpanda was hosted for a month by Mathieu Morcrette at the laboratory of reactivity and chemistry of solids at the University of Picardie Jules Verne in Amiens. 'It is the headquarters for battery research for France,' Barpanda explains.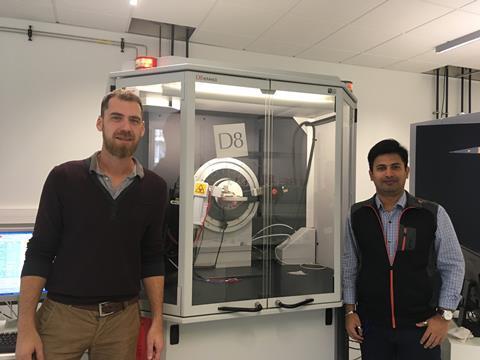 It was at a March 2018 meeting of Indian and French researchers in New Delhi – which coincided with Macron's first state visit to India – where Barpanda became aware of the programme. We were encouraged to apply for it, he explains. His host lab choice was easy, as Barpanda was a postdoc there from 2009 to 2010. 'I immediately contacted the director of that laboratory and said that I wanted to apply, can you host me? And he was very happy to do so.'
The project title they agreed upon was to develop high energy-density polyanionic cathodes for large-scale sodium-ion batteries. The most well-known rechargeable battery materials are the lead–acid batteries used in cars and the lithium-ion battery in portable electronics, he explains. Sodium-ion and potassium-ion batteries could offer significant cost advantages and therefore open up new, large scale, energy storage possibilities. 'There is a lot of research going into the sodium-ion battery and the potassium-ion battery as an alternative to the lithium-battery battery,' explains Barpanda.
His focus is developing novel electrode materials. When batteries are charging and discharging, and metal ions are coming in and out of the electrodes, their crystal structures changes significantly. 'They have an in situ x-ray diffractometer that can collect crystal structure data while the battery material is charging and discharging, at different state of charge and discharge.'
The collaboration has continued since Barpanda's return to India. 'I have already submitted two samples by post to their laboratory,' he says. The visit also smoothed the route for Barpanda's postdoc's move to the French lab in January 2019. 'Through him we will also continue the collaboration,' he adds.
While Barpanda says a month stay was adequate for him, he suggests that experimentalists visiting a lab that they are unfamiliar with for the first time may wish to stay longer. 'I was already familiar with the equipment so I could start working immediately. If somebody goes to a brand new place, one month may be too short for them.'
An American in Paris
'It was very useful from the perspective of learning to do drastically different research than I'm doing in my PhD, and also experiencing how things are run in other labs,' says Melissa Hardy, a third-year PhD student in Richmond Sarpong's group at the University of California, Berkeley. In the US, Hardy is a total synthesis chemist, but in France she spent two months developing new synthetic methods using mechanochemistry under the supervision of Dominique Cahard at University of Rouen.
The use of ball mills or extruders to 'force' chemicals to react is gaining popularity. Using little or no solvent, they offer more sustainable routes to organic molecules than traditional wet chemistry. Hardy proposed a project exploring the use of mechanochemistry for adding fluorine moieties. About 20% of all FDA-approved drugs contain fluorine. 'I kicked off a project and was able to make some progress; the short stay programme unfortunately wasn't enough time to see the work through to the end.'
The project will be continued by Cahard's team, what Hardy took away with her was lab – and life – experience. Experiencing different laboratory practices first hand 'is really great way to expose yourself to new ideas and get better at thinking about science', she explains.
'Another motivation for me was that I hadn't travelled out of the country before,' Hardy adds. 'When I heard about the programme from one of my undergraduate French advisors, I just started looking for researchers who had similar research interests to me.' (Hardy's undergraduate degree was a double major in chemistry and French.) 'I only sent out a single round of emails before I got a positive response from a lab that turned out to be the right fit,' she adds.
Experiencing French life first hand was also a very enriching experience for me, Hardy says. She went out with my lab mates to traditional French restaurants, and also spent time in Paris. 'I took a few days there in the beginning and did all the typical tourist things, which was fun.'