Jean-Pierre Launay and Michel Verdaguer
Oxford University Press
2014 | 491pp | £55
ISBN 9780199297788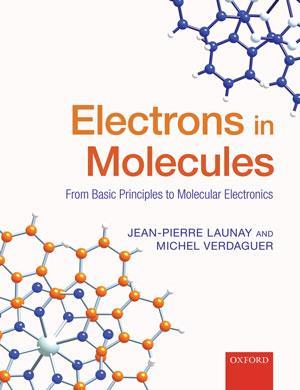 I started to read this book on a very early morning train journey to London, which was probably not the best idea but was well worth it in the end.
After a quick flick through the chapters, it was clear to me that the material provided by Jean-Pierre Launay and Michel Verdaguer was ideal for those wanting to know about the topic of Electrons in molecules.
There are some serious looking equations in the first part of the book, but this should not put off any faint-hearted reader who might be interested in the topic. The material towards the end of the book is a little more descriptive and the discussion is less interjected by equations.
Chapter one starts with some basic concepts, which are covered in many text books, but the authors soon pick up the level of complexity and by chapter two, the reader is given plenty to digest.
The real crux of the book is the material covered in chapters three to five, and here there is plenty of discussion on topics such as electron transfer and energy transfer, conductivity, photomagnetism and molecular electronics. It is interesting to note that the book is the product of material the authors taught as part of undergraduate and graduate courses. It is easy to see why: the material is topical and the book is an interesting read.
Purchase Electrons in molecules from Amazon.co.uk