Michael Swartz and Ira Krull
CRC Press
2012 | 206pp | £89 (HB)
ISBN 9780824706890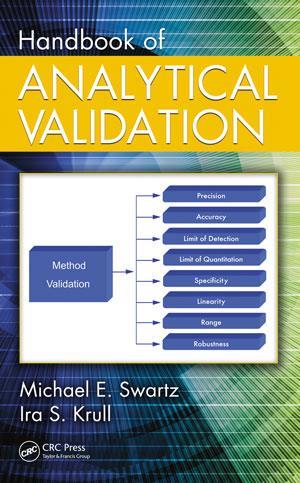 This informative book starts by pointing out that the typical cost to develop a successful drug is $0.9 to 1.7 billion (£0.6–1 billion). Thus, skimping on thorough method validation is a completely false economy. It could even result in rejection of a good drug.
Using untrained and unqualified staff is similarly serious. It is pointed out that the US Food and Drug Administration (FDA) treats the use of untrained or unqualified laboratory personnel in a regulated laboratory in the same manner as an adulteration of the drug substance or product. Some very interesting examples of actual FDA training deficiency letters are cited.
The book commences with a comprehensive introductory overview, including the drug development process, the FDA hierarchy and organisation, the evolution of the International Conference on Harmonisation (ICH), analytical method validation (AMV) guidance, the validation process and the importance of staff training.
The eight subsequent chapters go into detail on all the issues associated with AMV. Regulatory analytical procedures, alternative analytical procedures and stability indicating assays are also covered. The most common questions relating to method validation concerns setting specifications – chapter six comprehensively covers this complex aspect. The book concludes with a useful example of a comprehensive method validation protocol template.
The authors are to be congratulated on producing a concise, readable and informative book. It is a really useful reference asset covering current regulatory requirements on the validation of new or modified analytical methods from a practical viewpoint. I have seen books of almost twice the size containing half the information. This book should be an integral part of all drug and biotechnology laboratories for both training staff and for comprehensive advice on how to deal with a very wide range of specific issues relating to AMV.
My only very minor criticism is there is not a general glossary of acronyms. However, there is a very comprehensive glossary of terms related to chromatographic method validation, which in fairness is the major analysis technique employed in this type of work.
Purchase this book on Amazon.co.uk.