Construction begins on world's brightest x-ray laser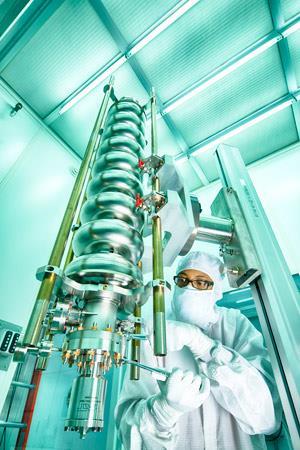 A massive project to build a second x-ray laser beam at the SLAC National Accelerator Laboratory has begun in California, US. The new beam will be the world's brightest, producing x-rays 10,000 times brighter and firing 8000 times more rapidly than SLAC's existing one.
Like the existing Linac Coherent Light Source (LCLS), the new x-ray laser will create a beam of x-ray laser light by accelerating electrons until they give off energy in the form of x-rays. But rather than accelerating the electrons down a copper pipe at room temperature – which generates 120 x-ray laser pulses per second – the new set-up will include a superconducting accelerator, which uses a series of niobium cavities chilled to -270°C to produce a million ultra-bright laser pulses per second. Work will be carried out to install a new electron source and two cryoplants to cool the niobium cavities, plus new undulators – magnets which force the electrons into a zigzag path.
The $1 billion (£701 million) upgrade is being funded by the US Department of Energy, and was given the go-ahead last month. The new x-ray laser will occupy a third of SLAC's 2 mile long linear accelerator tunnel. It will take until 2020 to complete, and the LCLS will be shut down for a year in 2018–2019.
LCLS director Mike Dunne said the upgraded facility will take x-ray science to the 'next level', enabling researchers to study materials at the atomic level in unprecedented detail. 'This will tremendously advance our ability to develop transformative technologies of the future, including novel electronics, life-saving drugs and innovative energy solutions,' he said in a statement.