Finnish Biotech company Finnzymes won the ?10 000 (£6 740) BioFinland prize at last month's BioFinland 05 congress in Helsinki, Finland
Helen Carmichael/Helsinki, Finland
Finnish Biotech company Finnzymes won the €10 000 (?6 740) BioFinland prize at last month's BioFinland 05 congress in Helsinki, Finland. The award was presented by the speaker of the Finnish parliament, Paavo Lipponen, and recognises Finnzymes as 'the most innovative company in Finland'.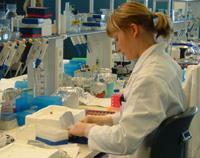 Based in a relaxed and modern new life-sciences centre in Espoo, Finnzymes develops novel enzymes used in genetic engineering and molecular biology and is at the cutting edge of developments in polymerase chain reaction and transposon technologies. In 2004, the company had a turnover of some €8.4 million (?5.7 million) and has 60 employees, although the workforce is growing due to an undisclosed product development programme.
The company has been in talks with its competitors but won't yet discuss the details. Chief executive officer Pekka Mattila says it has 'signed important international agreements' and that it will 'become a significantly larger company'.
'When Finnzymes was established in 1986, only a few financiers were investing in the biotechnology field in Finland,' says Mattila.
The company was financed with help from Tekes, the National Technology Agency of Finland, as well as financing growth from its own operational income.