One person injured as biosolids silo explodes at Avonmouth
An explosion at a wastewater treatment works in Avonmouth, UK, has left four workers dead and one more injured. Three of the dead were employees of Wessex Water, which runs the site, and the fourth was a contractor.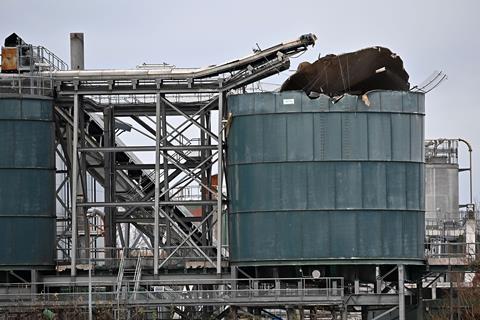 The explosion happened on 3 December, in a 'silo that holds treated biosolids before it is recycled to land as an organic soil conditioner', according to a statement from Avon and Somerset Police. Wessex Water is working with the UK's Health and Safety Executive (HSE) to determine the cause of the blast, and 'will not be speculating on the cause of the explosion while such work is being undertaken'.
Several possibilities exist that could lead to this type of explosion, as outlined in a HSE report on the risks from sewage sludge drying plants. They include buildup of an explosive composition of methane and air within the silo, or a dust explosion if the material had been dried. The true cause of the incident should be revealed by the HSE's investigation in due course.