Closure of loss-making ex-Varian business gives users investment dilemma
US-headquartered instrument maker Agilent Technologies has stopped taking orders for new nuclear magnetic resonance (NMR) spectrometers, leaving many within the chemistry community with tough choices. The company will build and supply the NMR instruments, core analytical tools for structural identification, already on its order books and honour existing support and service deals. However the closure means around 300 Agilent jobs will be lost, most over the next year: 100 in Yarnton, UK, 80 in California and the rest spread across the world.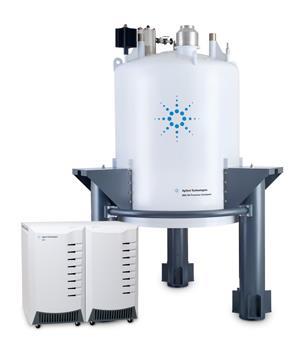 More broadly, Agilent's NMR exit will undermine the long-term viability of some of the largest chemistry investments that university departments and companies make. 'After investing heavily in equipment with a 10–20 year life expectancy, we are now left with a platform that will no longer be developed,' comments Phil Williamson from the University of Southampton. 'If departments in industry and academia have equipment they're not in a position to maintain, we have to address how we support these platforms moving forward and raise funding for their early replacement.'
In May 2010, Agilent moved into the NMR business when it bought Varian for $1.5 billion (£930 million). Varian had pioneered the technology, with Richard Ernst of the Swiss Federal Institute of Technology (ETH) in Zurich gaining the 1991 Nobel prize in chemistry for work developing high-resolution NMR he did in part with the company. However Agilent is currently restructuring, with its electronic measurement business set to be spun off as Keysight Technologies on 1 November.
'Agilent will be a smaller company focused on life sciences, diagnostics and applied chemical markets,' spokeswoman Michele Drake tells Chemistry World. 'The NMR hardware business has been operating at a significant loss. Unfortunately, the results of many actions we've taken over the past several years to improve this business have continued to fall well short of meeting our growth and profit objectives.' She adds that by focusing on 'solutions that drive growth across the company, we are also ensuring that we continue to develop and deliver the next-generation products and technologies'.
Drake couldn't say whether a rescue deal might be possible. But if it isn't, just two main NMR vendors will remain: Japan's JEOL and US-headquartered Bruker. 'What's going to drive the next generation of advances?' asks Williamson. 'The healthy competition between Varian and Bruker has been instrumental in driving magnetic resonance forward.'
Users with current Agilent NMR models will get full ongoing support through to 2021. When that ends, the company says it 'typically provides' a similar service level for another three years 'except that parts availability is provided on a commercially reasonable effort basis'. However, Williamson highlights that as well as keeping the machines working, universities must consider training.
'If we are training students on Agilent spectrometers that employers will no longer have in five years, that impacts on our training agenda. We have just invested heavily, and in the current infrastructure funding environment in the UK, it is hard to envisage where funds will become available to replace these instruments.'