Report claims pitting research against teaching won't do either any favours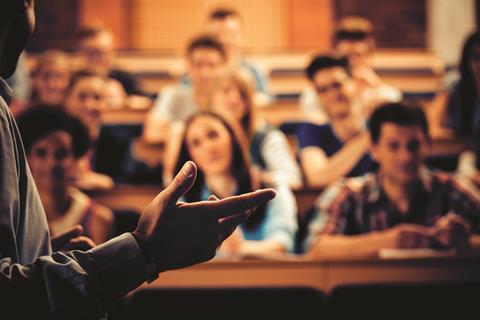 The government has been clear about wanting to improve teaching in higher education, and has proposed a Teaching Excellence Framework (Tef) to assess universities. But a new report casts doubt on whether Tef can achieve what it sets out to do.
Tef, laid out in the higher education white paper which is now at the committee stage in parliament, will link excellence in teaching with the ability to raise fees. It will include metrics, benchmarks and contextual information. A further Tef for each discipline is planned from 2019–20.
While government plans to recognise teaching excellence are well-intentioned, Paul Blackmore, professor of higher education at King's College London, believes they are not likely to be as successful as hoped. In his report for thinktank the Higher Education Policy Institute (Hepi), he argues that the main problem is that university research has always been viewed as more important than teaching despite attempts to change this. 'Driving a new wedge between research and teaching, as the government is doing, sets up a contest that teaching is bound to lose. Given that higher education now straddles two government departments [business and education], it is doubly important to ensure that teaching and research are not driven even further apart.'
Blackmore doubts that quality-related funding will raise teaching standards unless extra funding can be ringfenced for teaching, something he says is 'close to impossible'. He would like to see a single funding body for teaching and research, and suggests that staff promotion should reward those who link research and teaching.
Employment outcomes feature prominently in Tef. Currently, most data comes from a survey of graduates six months after graduation, the destination of leavers from higher education (DLHE) survey, and a follow-up survey three year later.
However, Richard Blackwell, emeritus professor of Southampton Solent University, and Martin Edmondson, chief executive of Gradcore, challenge current thinking that graduate outcomes are best measured through long-term earnings data in a second report for Hepi. Among other things, they recommend that Tef should undertake a graduate employment survey every year and gather data on earnings.
'Universities have different missions, offer different subjects and operate in different economic environments,' stresses Edmondson. 'So we need lots of data on outcomes and very careful treatment of the results. Above all, it is vital that short-term graduate outcome data continues to be collected, and set in context, as the new higher education landscape takes shape. Only then will it be possible to construct a sensible basket of measures on employment outcomes for the new Tef.'
However, Gordon McKenzie, chief executive of GuildHE, a body representing higher education heads, points out that Blackmore's summary is not true for all of the sector as many GuildHE members find the roles of researcher/teacher and, frequently, professional practitioner, are inextricably linked. 'It is an inspirational model that ensures research, teaching and learning combine to draw on expertise outside higher education as well,' he adds.