Researchers have made a living-synthetic hybrid robot that swims by wagging its tail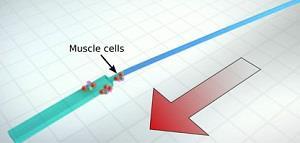 Scientists in the US have combined a synthetic polymer with living heart cells to make a tiny robot that swims by undulating its tail, in a similar way to sperm.
Taher Saif and colleagues at the University of Illinois made the head and tail out of polydimethylsiloxane, a flexible silicon-based polymer. They then cultured heart muscle cells at the base of the head, using a coating of the cell-binding protein fibronectin to encourage the cells to attach. After two or three days the cells begin to contract together in a synchronised way, causing the tail to beat from side to side, just like the long flagellum that sperm and some types of bacteria use to move. This beating in the tail produces a wave that drives the robot forward.
'The swimming is dependent on where the cells are placed, and the net force the contractions are generating,' said Saif, speaking at the 2014 meeting of the American Association for the Advancement of Science (AAAS). 'We have to make sure they are grown in close proximity in the right position.'
The team also created a version of the robot with two tails, which can swim eight times faster than the single tailed one, and is also capable of following a curved path. Saif says that, in principle, they could build a robot with three tails capable of moving in three dimensions.
The robot is powered in a similar way to the cyborg jellyfish unveiled by Kit Parker's group at Harvard University in the US last year, which also uses heart cell contractions to swim along. But this robot is much smaller – just 2mm in length – and is capable of powering through viscous fluids like those found in the body. The robot could find use in medicine, for example to deliver drugs to specific locations.
The next step is to find a way to control the robot's movement. Rashid Bashir, also at University of Illinois, has been working on cell–hydrogel hybrid robots that can 'walk'. 'One of the main goals with both walking and swimming robots has been to get them to follow a chemical gradient,' he says. This would allow the robots to navigate in a similar way to their natural counterparts. Another possibility would be to incorporate light-sensitive components that could enable the cells to contract in response to light.