A graduate student who pleaded guilty to poisoning a fellow chemist at Queen's University in Kingston, Canada has received a seven-year prison sentence for 'administering a noxious substance' and 'aggravated assault'. The court deducted time already served, meaning that Zijie Wang, a chemistry PhD candidate, will spend just under six years in prison for repeatedly smuggling the carcinogen N-nitrosodimethylamine (NDMA) into the food and drink of the victim, a postdoctoral fellow at the university. Wang's lawyer had advocated a four-year prison sentence, while the prosecutor had pushed for seven years.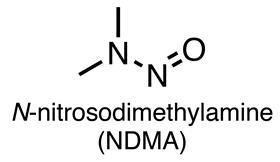 The victim, who is a former roommate of Wang, fell ill a number of times, including after eating an apple pie he'd brought in, but survived the attacks. He became suspicious after repeatedly falling ill and noticing an unpleasant taste in food he'd brought to work, so he set up a video camera by his desk that caught Wang putting something in his food. Subsequent analysis showed the substance was NDMA – a chemical used to cause cancers in lab animals. Wang's motive for the poisoning remains unknown.
NDMA is classified as a probable human carcinogen, based on animal studies, according to Health Canada. 'This means that exposure over the long-term could increase the risk of cancer,' the agency says. NDMA is 'very harmful' to the liver of animals and humans, and people who were intentionally poisoned with unknown levels of NDMA have died from severe liver damage accompanied by internal bleeding, according to the US Agency for Toxic Substances and Disease Registry.
The semi-volatile organic chemical has been implicated in a number of murders in the US and China. Wang is a Chinese national so could be tried again for the crime if sent home. The victim is also reportedly from China.
'Our hearts go out to the victim and his family; we recognise this highly unusual and upsetting crime continues to have a significant impact on everyone involved,' Queens University stated after Wang's 11 December sentencing.
The university says its labs don't have NDMA on their inventories. Furthermore, the school's lab access and chemical inventories are 'tightly controlled', according to Queen's University spokesperson Mark Erdman. 'How the individual acquired either the product or the materials required to make it, has not been disclosed to the university,' he tells Chemistry World.

Rebecca became the US Correspondent for Chemistry World in September 2014, based out of Washington, DC, after writing for the magazine on a freelance basis since 2007.
View full profile