Report concludes Annie Dookhan was only bad apple at lab but 40,000 drug cases may need revisiting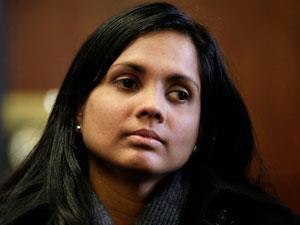 An investigation by the Massachusetts state inspector general has concluded that Annie Dookhan, the US forensic chemist imprisoned last year for falsifying thousands of drug tests, was the 'sole bad actor' at her former workplace. But the 15-month investigation also highlighted poor management practices at the Hinton drug laboratory in Jamaica Plain, where she worked, and raised questions over thousands of additional cases.
Dookhan admitted to mixing evidence samples and falsifying results, as well as falsely claiming to have a master's degree in chemistry from the University of Massachusetts. In November 2013 she was sentenced to three to five years in state prison for tampering with evidence and obstructing justice. The Hinton laboratory was shut down following Dookhan's arrest in 2012. Her motive for falsifying the results was her desire to be seen as a particularly hard working and productive.
Dookhan was directly involved in over 40,000 criminal cases, and to date over 500 people have been released from Massachusetts prisons as a result of the scandal. Now, the inspector general's investigation has identified an additional 2300 cases handled at the Hinton lab where there were inconsistencies in drug test results. Dookhan was involved with some, but not all, of these.
'Annie Dookhan's actions were unique,' said inspector general Glenn Cunha in a statement. 'That said, a lack of uniform protocols and procedures at the lab led to deficient practices.'
The investigation found over 650 cases in which the original drug samples had gone missing, and many where a clear chain of command had not been established. Cunha's report said that poor management and a culture of negligence were to blame. 'The drug lab lacked formal and uniform protocols with respect to many of its basic operations, including training, chain of custody and testing methods,' the report stated. 'This lack of direction […] allowed chemists to create their own insufficient, discordant practices.'
The cases identified in the report will now be reviewed, with samples submitted for further testing. The entire scandal has so far cost over $18 million (£11 million), and generated a huge backlog of cases in courts across the state, where over 900 defendants are challenging evidence used against them that Dookhan processed.
As one of just three drug testing facilities in Massachusetts, the Hinton lab dealt with forensic evidence for more than 120,000 cases during the nine years that Dookhan worked there. Cunha's report found 'no evidence to support treating cases in which Dookhan had no known interaction with the drug sample in question with any increased level of suspicion', but concluded that all of the 40,323 drug cases that Dookhan had been directly involved in should be 'treated as suspect and subject to careful review'.