Fluorescent dye library screened to find compound suitable for detecting gamma-butyrolactone in alcoholic drinks
The first fluorescent sensor for known date rape drug gamma-butyrolactone (GBL) has been developed in Singapore. It emits orange fluorescence in alcoholic drinks containing GBL when irradiated with a green laser.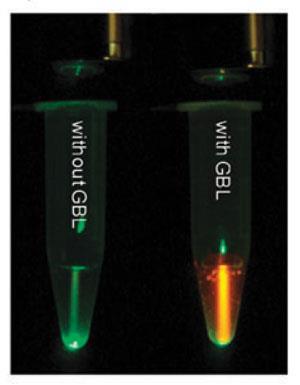 Gamma-butyrolactone (GBL) is a readily available industrial solvent that is often used as a date rape drug. There are several detection kits that can show if a drink has been spiked with drugs like gamma-hydroxybutyric acid (GHB) and ketamine but there are no commercially available sensors to detect GBL.
Now, Young-Tae Chang and his group at the National University of Singapore have developed the first sensor for the detection of GBL. They used a fluorescent dye library of over 10,000 compounds as a toolbox, screened these molecules against GBL and found a 3,5-hydroxyl compound that was highly selective for GBL.
The group's sensor emits orange fluorescence when using a green laser pointer on a drink sample containing GBL. When the drink is safe, the sensor appears green. One drawback is that the sensor cannot detect GBL directly in the drink – it requires an extra sample extraction step, something that the group is working on automating.
Philipp Sulzer, an expert in the detection of illicit substances at IONICON Analytik, Austria, says that this is 'high class' research and that the team have made 'a very appropriate fluorescent marker'. His only concerns are that the sensor is limited to GBL and the detection limit might not be low enough.
Chang says that their toolbox could be applied to any kind of analyte. Using their technique, they are working to design a similar compound that can detect GHB and develop a detection kit for both GHB and GBL.