Explosion at warehouse in Tianjin kills at least 50 and injures hundreds, while ammonia leak sparks mass evacuations in Nanchong
A series of massive explosions that erupted from a warehouse in the northern Chinese port city of Tianjin late on 12 August has killed at least 50 people and injured many hundreds more, according to the state-run People's Daily. The incident, believed to have been caused by volatile chemicals stored on site,has led President Xi Jinping to call for enhanced management of dangerous chemicals, according to China's official Xinhua news agency.
A team of more than 200 nuclear and biochemical materials experts from the military was quickly summoned to Tianjin to help address the situation, Xinhua reports. Rescue operations have reportedly been suspended while teams assess any contamination of the surrounding area resulting from materials stored in the warehouses, and attempt to determine exactly what chemicals were in the building at the time, and the degree to which they have been destroyed, transformed or distributed by the blast.
The city is one of China's largest ports with an estimated population of about 11 million, thousands of whom have apparently been displaced to temporary shelters. The logistics company that owns the warehouse in question, Rui Hai International Logistics reportedly stores and distributes containers of hazardous goods at the port to the tune of one million tonnes every year.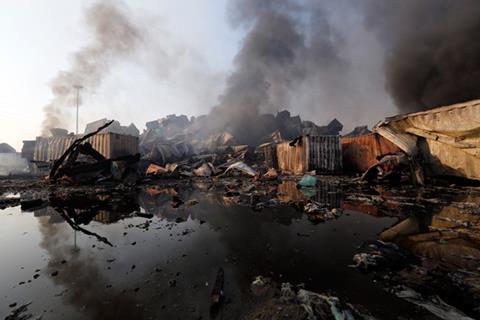 The Tianjin disaster occurred just days after another major chemical accident in Nanchong, Sichuan province. An ammonia leak at a chemical plant led to the evacuation of 10,000 residents on 10 August, according to local media reports. The release reportedly occurred when a pipe at the Chuanlong chemical fertiliser plant sprung a leak.