Isobutylene tank explosion kills one and hospitalises two at KMCO plant in Crosby
An explosion and fire at speciality chemicals firm KMCO's plant in Crosby, US, has killed one worker, with two others in intensive care at a local hospital.
The blast was caused by ignition of a leak from an isobutylene tank, and the ensuing fire ignited nearby stores of ethanol and ethyl acrylate. It was extinguished after five hours, according to local news reports.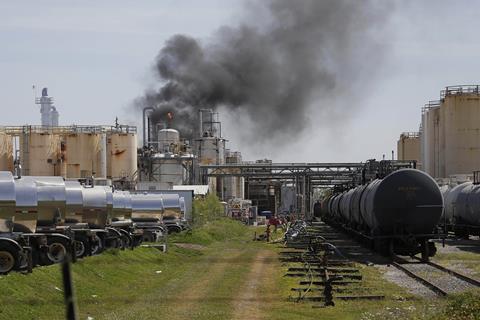 The Texas Commission of Environmental Quality (TCEQ) has filed an injunction against the company relating to violations of the US Clean Air Act. The US Environmental Protection Agency, TCEQ and county pollution control services are monitoring air quality around the site
The incident follows another serious fire at a petrochemicals shipping terminal in Deer Park, less than 15 miles away from the Crosby Plant. While no-one was injured in that fire, multiple storage tanks of naphtha and xylenes burned for several days before the fire was brought under control, with local residents ordered to stay inside to avoid exposure to the smoke and chemical vapours.